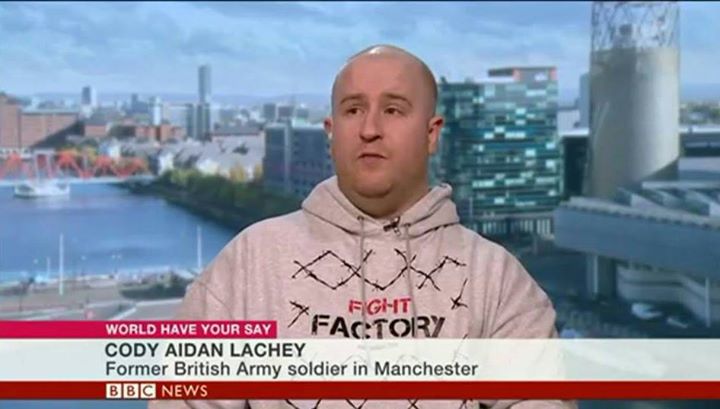 The Daily Star Sunday exposes Cody Aidan Lachey, a self-styled Afghan veteran who was given a platform by the BBC in the aftermath of the Woolwich murder to incite hatred against Muslims. The Star claims that Lachey joined the Army in 2001 as Craig Langley, but he went absent without leave in 2002 and left the Army the following year, later changing his name to Cody Lachey. They say he has never served in Afghanistan.
When Lachey appeared on Newsnight he was described by host Kirsty Wark as having "fought for Queen and country twice in Afghanistan". According to the Star: "On Daybreak he was asked questions by hosts Kate Garraway and Aled Jones while in his Army uniform and he spoke on behalf of all soldiers. On BBC World News he was referred to as an ­Afghan veteran and used his appearance to spout hatred towards Muslims, claiming anyone in ­Britain who didn't like Westerners should be ­deported."
The Star adds: "Lachey approached this newspaper with a fanciful story about being 'brainwashed' by Islamic ­extremists. He said he became such a believer he was preparing to plant a bomb to kill British soldiers. But his story appears to be a lie in a bid to spout his views against Muslims."
Lachey told a Star reporter: "I believe we need to declare war on Islam as ALL Muslims don't like kafirs, non-believers." He posted on his Twitter account: "This country has gone to the dogs if it gets anymore Muslimified we will all be wearing burkhas and raping and abusing white women and kids."
That particular tweet appears to have been deleted, but here are some of those that remain, including an expression of admiration for the English Defence League and its leader "Tommy Robinson".