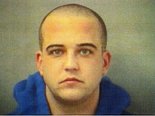 BAY CITY — A Bangor Township man who police said yelled racial slurs outside a Bay City bar has accepted a plea deal, and he may avoid jail if he writes a convincing report on Muslims' cultural contributions.
Delane D. Bell, 25, earlier this month pleaded no contest to a two-year felony count of ethnic intimidation. In exchange, prosecutors agreed to dismiss misdemeanor counts of assault and battery and malicious destruction of property between $200 and $1,000.
A no contest plea is not an admission of guilty but is treated as such for purposes of sentencing. Bell's attorney, Bruce K. Mannikko, previously said his client didn't recollect the incident for which he was charged.
Court records indicate prosecutors are recommending a delayed jail term. After hearing Bell's plea, Bay County Circuit Judge Joseph K. Sheeran amended his bond to require that he write a 10-page report on "the greatest accomplishments of Muslims."
Bell is to turn-in the report to the probation department prior to his April 30 sentencing.
Prosecutors allege that around 1:50 a.m. on Nov. 26, Bell shouted "Osama bin Laden" and "jihad" at two men of Indian descent outside a bar in Bay City's Midland Street Historic District. Bell punched one of the men in the face and hit the other's vehicle, denting the door, police have said.