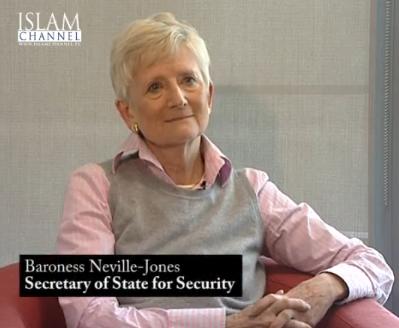 Guess who Pauline Neville-Jones, the new security minister, chose for her first post-election interview? The BBC? The Telegraph? The Guardian? No: bizarrely, it was the Islam Channel, the Islamist-linked satellite broadcaster whose chief executive, Mohammed Ali Harrath, is the subject of an Interpol "red notice" for terrorist offences. Only eighteen months ago, Neville-Jones was demanding that Harrath be sacked.

The Islam Channel also has a programme presented by a senior officer of Hizb ut Tahrir, the group the Tories wanted to ban. Talk about outreach, Pauline! No wonder the presenter told her they were "honoured to be the recipients of your generosity."
Andrew Gilligan is shocked that Neville-Jones should discuss government security policy affecting Muslims on the Islam Channel – which is watched by 57% of British Muslims.
See also "BBC 5 Live – Unfair to Islam", Radio Today, 25 May 2010