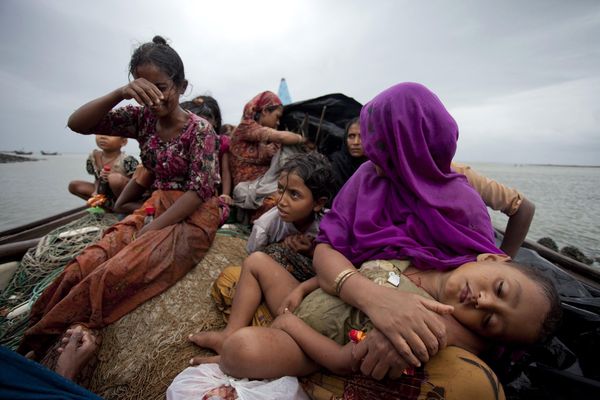 Bangladesh has rebuffed pleas from the United Nations and other groups to allow in Rohingya Muslims displaced by sectarian clashes in Myanmar, continuing to turn away their boats at its borders.
Border guards "foiled two separate attempts of Rohingyas to enter" Bangladesh on Wednesday, the national news agency reported, sending 70 people back to Myanmar. About 1,500 Rohingya fleeing Myanmar in boats have been turned back since the weekend, when clashes broke out with the majority Rakhine Buddhist population, the Associated Press reported.
"It is not in our interest that new refugees come from Myanmar," Bangladesh Foreign Minister Dipu Moni told reporters in Dhaka on Tuesday. She reiterated that position Wednesday, the national news agency said.
The United Nations' refugee agency has called on Bangladesh to provide a haven for people fleeing the fighting in coastal Rakhine state. The violence in western Myanmar erupted after the lynching of 10 Muslims in retaliation for the rape and murder of a Buddhist girl, allegedly at the hands of three Muslims.
The U.S. joined the public calls on Bangladesh on Wednesday, with State Department spokeswoman Victoria Nuland urging the country to ensure refugees aren't turned back to their persecutors, Agence France-Presse reported.
"By closing its border when violence in Arakan state is out of control, Bangladesh is putting lives at grave risk," Human Rights Watch refugee program director Bill Frelick said Tuesday. "Bangladesh has an obligation under international law to keep its border open to people fleeing threats to their lives."
Los Angeles Times, 13 June 2012
---
If we turn to the website of Jamaat-e-Islami Bangladesh we find the following:
"Bangladesh Jamaat-e-Islami has expressed deep concern over killing of Rohingya Muslims in Arakan of Myanmar and torture on them. In a joint statement on Wednesday, Jamaat Acting Ameer Makbul Ahmad and its Acting Secretary General Dr Shafiqur Rahman urged Bangladesh government to give shelter to the helpless Rohingya refugees as the neighbouring country's citizens in humanitarian consideration."
Now, it's not my purpose here to give political support to Jamaat-e-Islami. If I lived in Bangladesh I would probably vote for the Awami League, which currently heads the ruling coalition. But it's worth considering what would happen if the situation were reversed, and it was a Jamaat-e-Islami government that was blocking the fleeing refugees and sending them back to face possible death at the hands of racist mobs, while the Awami League was opposing this heartless and illegal behaviour.
Nick Cohen would probably devote an entire Observer column to denouncing the government and applauding the humanitarian stand of the opposition. Andrew Gilligan would almost certainly produce an article for his Telegraph blog arguing that the criminal behaviour of the governing party in Bangladesh was a reason to shun its political co-thinkers in Tower Hamlets. And the terrorism-supporting Zionist blog Harry's Place would no doubt contribute a lengthy anti-Islamist rant on the subject.
But because it's a secular nationalist government behaving in this shameful way, and an Islamist opposition party calling for a humanitarian response to the refugee crisis, you won't hear a peep from any of them.