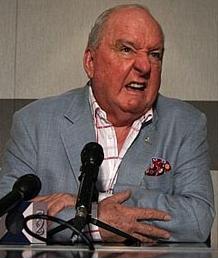 Broadcaster Alan Jones has been ordered to pay Muslim community leader Keysar Trad $10,000, ending a nine year battle over a radio segment found to have "stimulated listeners to hatred" of Lebanese men.
The Civil and Administrative Tribunal found comments broadcast on 2GB in April 2005 "portrayed Lebanese males as criminals and … as posing a threat to the Australian community".
The tribunal found Mr Trad's complaint of racial vilification over the comments, which Jones described as being a letter from a listener, was substantiated.
The letter said Lebanese men "simply rape, pillage and plunder a nation that's taken them in". The radio segment followed a story on A Current Affair about a group of men, who Jones said "announced themselves as Lebanese Muslims", gathering at Brighton-le-Sands and The Rocks.
The tribunal found that the opinions expressed in the letter were not relevant to any argument about the public interest. "It is simply not reasonable to malign and denigrate Lebanese males in general in the context of discussing a particular incident involving a small ground of young Lebanese men," said the judgment, handed down earlier this month.
The tribunal found that Jones used "contemptuous and hateful language" and the broadcast was "gratuitously insulting and offensive to Lebanese males".
"Mr Jones is one of the most powerful and influential radio presenters in Australia. It can be inferred that an ordinary member of his audience respected and tended to agree with his views. The propensity for them to be incited was, if anything, greater than that of a member of the general public.
"The words, in context, urged or stimulated listeners to hatred or, at least, serious contempt of Lebanese males. In our view, there can be no doubt that it would have reached the mind of the audience as something which had that effect."
Jones and Harbour Radio, which holds the licence for 2GB, were ordered to pay the damages, along with some of Mr Trad's legal costs. Harbour Radio was also ordered to review its policies in preventing racial vilification, if it hadn't already done so.
The case has been in and out of courts for years. Jones was first ordered to pay damages to Mr Trad in 2009, but the broadcaster launched two attempts to overturn that decision.
Jones was successful in the Court of Appeal, which last year ordered Mr Trad repay $10,000 to Jones and sent the matter back to the tribunal for determination.
The tribunal found Mr Trad was affected by the broadcast as a leader in the Lebanese community and the $10,000 payout reflected a "relatively mild" level of loss and damage.
Sydney Morning Herald, 29 December 2014
See also "Alan Jones loses lengthy legal battle with Muslim leader Keysar Trad", Guardian, 29 December 2014
And "Vilification win over Jones 'symbolic'", AAP, 29 December 2014