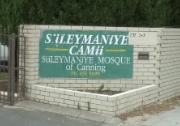 Police have charged two men believed to be part of a Perth-based extremist group who allegedly fired shots at a mosque. Police believe the men were responsible for the incident at the Canning Mosque on February 4, where shots were fired into the dome roof of the building. The men are allegedly involved with the national extremist group Combat 18.
Cannington Detectives charged a 24-year-old High Wycombe man and a 25-year-old Greenmount man with criminal damage, discharging a firearm and possession of an unlicensed firearm. A 19-year-old man from Kalamunda was also charged with possession of an unlicensed firearm.
Insp Rob Anderson from South East Metropolitan District Office said police believed the charges would spell the end of the Combat 18 group's presence in the state. "As a result of today's operation, we are confident that we have more or less eliminated that faction within WA," he said. "It is a neo-Nazi organisation – its very title is based on the initials of Adolf Hitler. WA Police are committed to eradicating such hate crime within WA – there is no place for such crime here."
Turkish Islamic Association of WA president Huseyin Aksakal said the incident had brought the local community "tighter and closer". "It is a bit concerning, because WA shouldn't have any hate crime at all, and I'm just happy they've eliminated one aspect of it," he said.