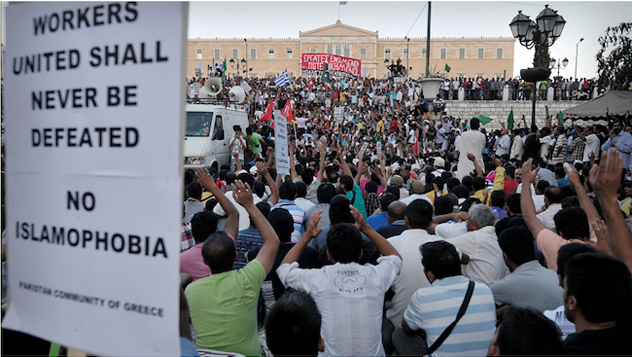 ATHENS — Thousands of immigrants in Greece have taken to the streets to protest anti-Muslim sentiments and racist attacks against foreigners in a country plagued by a huge debt crisis.
"This is a first action against the racist pogroms of the police which encourage the neo-Nazis of Golden Dawn to come out in neighborhoods and murder and attack people," Tasos Anastasiou of the "Expel Racism" movement told Euronews.
Thousands of immigrants took to the streets in the capital Athens on Friday, August 25, to protest rising attacks against immigrants. "No to fascist attacks," read a banner carried by protestors in front of parliament in Athens. "No Islamophobia" and "Neo Nazis out!" read other banners carried by the protestors.
Protestors complain of rising sentiments against immigrants, particularly from Muslim countries. They cited the death earlier this month of a young Iraqi in a hate attack, and recent "blasphemous" graffiti on walls in a Muslim area in the poor Athens suburb of Renti.