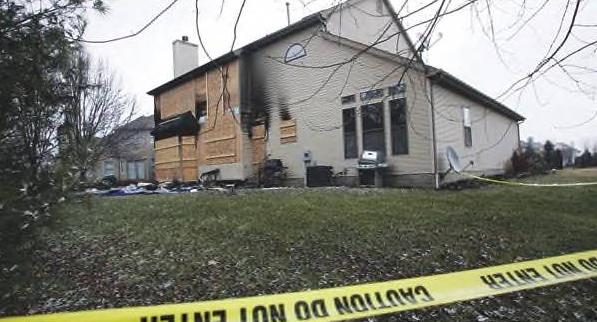 Mohamed Soltan will always remember Martin Luther King Day. On the morning of Jan. 16, 2012, someone set fire to his parents' home on Britton Farms Drive while he slept.
"I was sleeping and my roommate (Ahmed Mahmoud), thankfully, he's a really light sleeper, he comes into my room and is waking me up," said Soltan, a 24-year-old student at Ohio State University. He grabbed his cell phone and a sweatshirt and ran down the stairs of his parents' home.
"We had already inhaled a wave of smoke," Soltan said. "I was coughing, choking, calling the dispatcher. I was really worried that the fire was going to get out of hand, because we saw it coming from the side. I was really scared for my neighbors."
No one was hurt, but there was a lot of damage to the structure, and most of the contents are not salvageable, Soltan said. However, the memories made over eight years – the longest Soltan has lived in any one place – remain.
"God spared my life and my roommate's life," he said. "But for someone to do such an act, they have to have a lot of hate in them. I'm pretty sure that they would have been the same people that back in the '60s would have been racist against African Americans. I'm really sad that there's still people like that in the world, in my own hometown, that there are still people out there that need to hate somebody in their life."
The fire was ruled an arson by the Hilliard Division of Police and the Norwich Township Fire Department (NTFD). The Columbus office of the Federal Bureau of Investigation is also cooperating with the investigation. Hilliard Police and the NTFD, in conjunction with the Blue Ribbon Arson Committee, are offering a reward of up to $5,000 for information leading to the arrest and conviction of those responsible for the fire.
Capt. Eric Manske of the Norwich Township Fire Department told the township trustees on Feb. 7 that no one has come forward with any tips on the arson. Hilliard Police Chief Doug Francis said that as of Feb. 13, there were no leads on the arson, but the investigation remains open. Anyone with information on the fire is asked to call Hilliard Police at (614) 334-2317.
"The city takes this type of crime very seriously and our police department is working diligently to determine who is responsible," said Law Director Pamela Fox.
"We consider Hilliard to be a welcoming community and do not condone any crimes of violence, most particularly crimes against people because of race or ethnicity," she said. "The safety and well-being of all our citizens is highest on our list of priorities."
"We are a community that rejoices at our diversity and we abhor any crime directed to any group or any individual citizen," said Mayor Don Schonhardt. "While this arson has galvanized our resolve to bring those responsible to justice, it has also served to focus our attention on a segment of our community that enriches the very diversity we wish to preserve.
"That said, I want to reserve judgment on whether this is, indeed, a hate crime until those responsible are apprehended. We don't have all the facts and neither do we have anyone in custody at this time that can shed light on who did this and why.
"In the meantime, I hope all of us remain focused on the fact that despite our diversity we are, after all, one community with the common objective to grow together instead of growing apart. Critical to that objective is the necessity to respect our neighbors, no matter their faith, their origin or the color of their skin."
Norwich Township Trustee Chuck Buck said, "Anybody that tries to hurt someone else or their property, it's just not right. When people do set fires, it (also) puts our firefighters in danger and the general public in danger. Anybody that's an arsonist is a terrible, hateful person, whether it's done for political reasons or anything else. Hopefully, we don't see any more arson fires in our community."
Soltan said, "The arsonist set my house on fire because my family and I are Muslims, and because some extremists misinterpreted my father's political sentiments. Many have attempted to justify the fire as an appropriate vigilante-style response to my father, who has not lived in the United States in over five years. To be candid, this response scares me more than almost losing my life in the fire."
Soltan said it's not the first time something has been done to his family's property. The mailbox has been damaged, and the home has been egged and toilet-papered.
However, things took a turn for the worse two years ago, when his car was vandalized, with broken windows, slashed tires and hateful words. Then, in November 2011, similar graffiti was painted on the home's garage.
Soltan said he intends to stay in Hilliard.
"I'm a very big believer in fate," he said. "So whatever's meant to happen, will happen. I'm not scared. I'm not intimidated. I'm not leaving. I'd just be giving in to what they want. I'm not willing to do that, because what's going to happen to the next guy? There are a lot of Muslim families in that neighborhood. Are they going to go one by one?"
A candlelight vigil, attended by 60-70 people, was held at Soltan's home on Feb. 1.
"A lot of different people from different backgrounds were there," said Hannah Tyler, government affairs communications coordinator for the Council on American-Islamic Relations-Ohio, which sponsored the event. "The general theme of the night was the community coming together, showing support for one another against acts of hatred and violence."
"I told the crowd whoever this person thinks they are, they're the enemy, not me," Soltan said. "The enemy is any extremist that wants to terrorize innocent civilians – from the caves of Afghanistan or somebody that wants to burn anybody's house down in Hilliard, Ohio.
"I am a devout Muslim and I am a patriotic American, and nobody can strip that identity away from me, period."