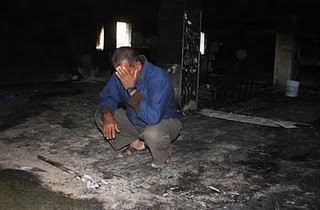 BEIT FAJAR, WEST BANK — Arsonists set fire to a mosque in this Palestinian town early Monday, charring Korans, burning holes into the carpet and scrawling "revenge" in Hebrew near the doorway.
The attack, which residents blamed on Jewish settlers, threatened to stir passions amid a crisis in Israeli-Palestinian peace talks over settlement construction.
Witnesses at Beit Fajar, a major stone-cutting center south of Bethlehem, said that a car carrying several people pulled up at the mosque about 3 a.m. and that a fire was blazing after they left. "We smelled smoke, and young men outside were shouting that the mosque is on fire," said Maryam Ismail, who lives across the street. She said neighbors rushed over with hoses and buckets to douse the flames.
Throughout the day, men gathered at the mosque to survey the damage. There were large, scorched gaps in the carpet, linked by a snaking trail of flammable fluid. The walls and ceiling were covered with soot, and a box of singed Korans was removed by Palestinian police officers. "A mosque must be burned," was scrawled in Hebrew near the door, along with a Star of David.