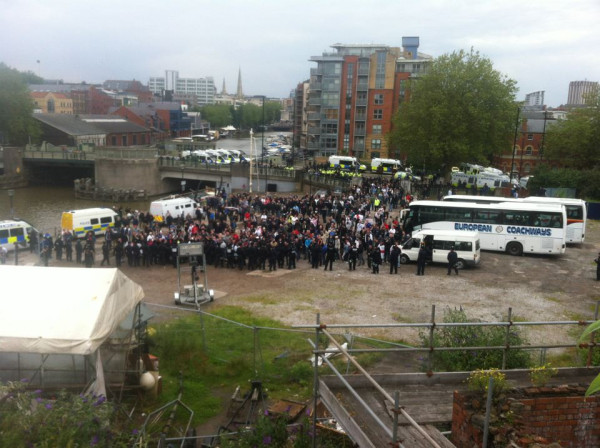 'The biggest street movement in history'? The ever-shrinking EDL assembles in Bristol
A controversial English Defence League (EDL) demonstration and a major opposition rally have been praised for passing peacefully despite 11 arrests.
Up to 300 far right campaigners marched through Bristol in protest at what it claims is the "islamification" of the city. Avon and Somerset Police drafted in extra officers from as far afield as Yorkshire to swell the ranks of the riot control force to 1,000.
Isolated clashes took place between the police and EDL protesters as the rally wound down and supporters left the city.
Earlier, demonstrators walked through rain swept streets to Queen Square where EDL leaders made speeches to their supporters while at the same time up to 500 anti-EDL protesters with the We Are Bristol campaign marched in the city in an counter-demonstration.
Press Association, 14 July 2012
"Up to 300" demonstrators? Rather fewer than the "thousands" Pamela Geller was anticipating.
Update:  See UAF news report, 15 July 2012
Update 2:  See "Five men charged following EDL march and anti-EDL protests in Bristol", Bristol Post, 16 July 2012