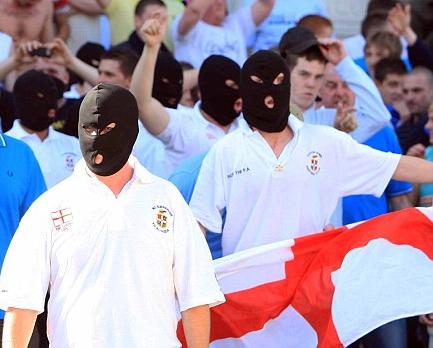 Four men who were part of a mob that went on the rampage during a march against Islamic extremists were yesterday (January 19) jailed.
The "March for England" through Luton town centre in 2009 saw windows smashed at an Asian-owned fast food shop, an Asian man attacked in the shop's doorway and the police goaded by a mob who hurled placards at them.
Luton Magistrates' Court was played CCTV footage which showed a small group running across a dual carriageway where they attacked a car containing three Asian men. The footage showed more than 200 men, many who had met up in a Luton pub, were involved in a march that lasted between one-and-a-half and two hours. Some wore balaclavas, some were draped in the flags of St George or the Union Jack, others carried placards which read "United People of Luton". Some were heard to chant '"Scum, Scum, Scum".
Yesterday (Tuesday January 19) seven men appeared for sentence having pleaded guilty to causing affray during the march which happened on May 24 2009. Only four were sentenced as pre-sentence reports had not been prepared for three of the others. Tony Griffiths, 27, of Manor Road, Caddington and Simon Hattle, 21, of Hazelwood Close, Luton, each received 16 weeks in jail. Richard Myers, 21, from Marsom Grove, Luton, was sentenced to 28 weeks.
The group gathered outside Luton Town Hall where there was chanting before they marched through the town centre. In Chapel Street an Asian man was attacked and a window was smashed at the Asian-owned Piri Piri chicken takeaway. On the Stuart Street dual carriageway a group of men ran over to a car driven by an Asian man that was in a queue. Racists comments were made and a side window was smashed, causing £700 damage.
The group headed back towards the Arndale shopping centre but were stopped in Flowers Way by police wearing helmets and armed with shields. At that point poles and placards were hurled at the officers, who were "goaded" by the group, said the prosecutor. Later there was more trouble in St George's Square where an Asian man, who has not been identified, was also attacked.
Bedfordshire News, 20 January 2010
---
We particularly liked the account of how one of those convicted, Simon Hattle, came to be arrested:
"He had tried to cover his face while on the parade, but was easy for the police to identify because he was bare-chested and had his name tattooed on his body."