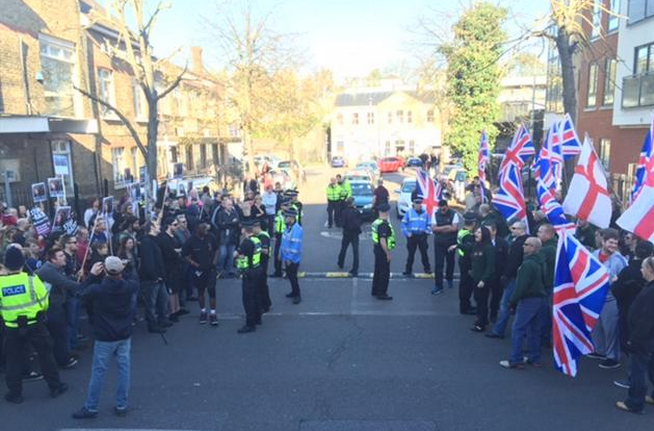 Hundreds of people stood shoulder to shoulder and lined Rochester's streets to prevent a far-right political group storming through the town to the war memorial. On Saturday around 35 members of Britain First descended on Medway to exercise their right to free speech.
But at Rochester station to meet them was a group of local people and activists, numbering nearer 70.
Things started to kick off when the Union flag marchers hurled insults and deputy leader Jayda Fransen said: "You are all brainwashed traitors to the crown, you should all be hung, drawn and quartered."
Toks Adefuie is an reservist in the British army and has been for 12 years. The 31-year-old from Gillingham did a tour of Afghanistan in 2010 and said: "It's very disappointing to see people claiming to be in the forces, on that side of the team.
"The army teaches you to have respect to others, not to discriminate. Why come hear to preach hate and spread segregation? It's really upsetting and has almost been brought me to tears. Radicals are bad, regardless of their religion or culture but somebody might get radicalised because of this, we're just making enemies for ourselves."
The marchers pushed their way into Rochester High Street but once outside The City Wall pub, their opponents were determined to stand their ground.
After over two hours of insults, and the opponents clutching placards with "stop the BF nazis" written on and yelling "we don't want you here", Britain First turned and left to the tune of jeers.
Rachel Tate, 49, is a counsellor working in the field of sexual exploitation and said: "I saw the racism, the lies, the intimidation techniques and scare-mongering that Britain First are spouting, calling all Muslims child abusers and rapists. So I decided to come here today to say, 'you don't speak for me'."
No Britain First marchers or supporters spoken to on the day agreed to be interviewed or named but leader Paul Golding said: "Anti-facist groups have been trying to attack us all day and inhibit us doing what our legal rights are, to engage in the democratic process to get out message out."
Ms Fransen is one of 13 candidates for the Rochester and Strood by-election which takes place on November 20 and contests the new mosque being built in Gillingham.
Labour councillors were also stood opposing the group, and one youth was taken from the area by police after things got heated in the crowd.
Dozens of police officers, including some in riot padding oversaw the march and protest.
Update:  See "Britain First fascists embarrassed in Rochester", Anti-Fascist Network, 2 November 2014