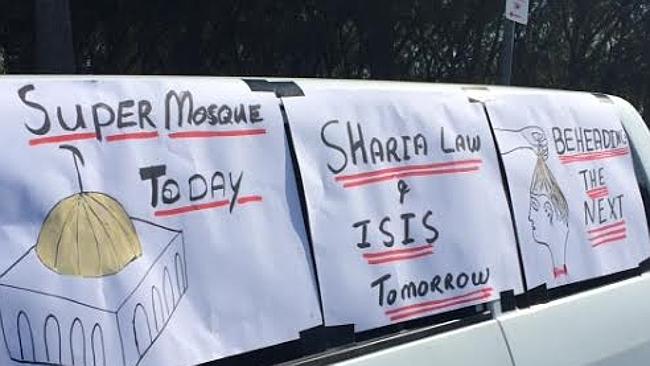 Gold Coast leaders say a radical anti-Islamic "redneck movement" is damaging the city's reputation and putting its $4.2 billion tourism industry at risk.
State Tourism Minister Jann Stuckey last night black-listed the public outpouring against the background of an application to build a mosque in Currumbin. "I am deeply disappointed by this because this [protest] does not represent the people of the Gold Coast or the people of my electorate and are is not helping anyone's cause," she said.
More than 100 people yesterday attended the heated protest at Evandale yesterday, where the city's planning committee recommended approving the application to build the mosque. Placards from the protest decrying Sharia law and invoking images of the beheading of US journalists in Iraq by members of Islamic State were beamed worldwide. The banners included: "Super mosque today, Sharia Law and ISIS tomorrow, beheadings the next"; "Team Australia Vs Team Terror: Aussies rule" and "burqua (sic) or bikinis – you decide".
Protesters heard former Whitlam era political cartoonist and Gold Coast resident Larry Pickering argue that the dispute was not about town planning issues. "It is not about carparks or proximity to houses. It is about what we don't want to be a part of Australian culture and until those bastards in there are honest about it then we will not take a step forward," Mr Pickering said. "Sharia is the most evil of all laws. This is Australia for Christ sake. Why are we allowing this?"
The highly lucrative Middle Eastern tourism market is worth up to $75 million to the Gold Coast economy. Tourism Research Australia figures released this week reveal the number of visitors to the Gold Coastfrom the Middle East and Northern Africa, excluding Israel, increased by 14 per cent during the past year.
Mermaid Beach MP Ray Stevens said the protest did not represent the Gold Coast. "Emotion and inflamed personal views over this particular subject need to be balanced with the reality of the situation," he said. "Australia is a peace-loving, widely accepting country which abhors discrimination and vilification of any particular group."
Surfers Paradise MP John-Paul Langbroek called for calm and urged locals to be civil. "We have 140 nationalities living side by side on the Gold Coast and it's an excellent example of a modern multicultural society," he said.
Councillor Chris Robbins, opposed to the mosque application, referred to some of the comments on Facebook including threats to the building and protesters vowing to "drive down the road and play our music at 15,000 decibels every time they are praying". "There are people in the community, shall I say it, rednecks, they will bring that disharmony to the area," Cr Robbins said.
The Currumbin Residents and Light Industry Safety Committee, which has produced a lengthy submission about noise and car parking problems, was caught in the crossfire with its supporters removing themselves from the protest.
"We are not the rednecks and we are concerned those characters will come in and damage our community," secretary Tracey Thompson said. "It is a different agenda and we are not interested in it. This is about Currumbin and the lifestyle of Currumbin and I denounce any racists or bigots."
Gold Coast Bulletin, 11 September 2014

Here are a few of the comments posted on the "Stop the mosque at currumbin" Facebook page in support of the protest:

Update:  See also "Councillors William Owen-Jones, Cameron Caldwell and Chris Robbins have received death threats since a vote on a controversial Currumbin mosque", Gold Coast Bulletin, 12 September 2014