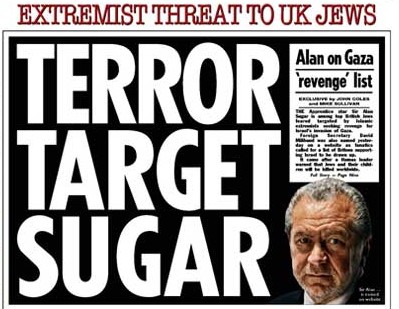 The Sun today admitted that its front page story claiming Lord Alan Sugar was a Jewish "target" of extremist Muslims was wrong.
But the paper did not apologise or offer a correction to readers about the 7 January story, which carried the headline "Terror Target Sugar". The story quoted claims by "anti-terror expert" Glen Jenvey that online Muslim forum Ummah.com was being used by extremists to target leading British Jews in revenge for Israel's invasion of Gaza.
The Sun story named Sugar, singer Amy Winehouse, producer Mark Ronson and Labour peer Lord Levy as among those allegedly being targeted by Islamic extremists. News International's daily tabloid subsequently removed the story, which carried the bylines of John Coles and Mike Sullivan, from its website. The story came from the news agency South West News.
Jenvey has also appeared on BBC2's Newsnight as a terror expert commenting on internet monitoring of extremist groups.
Today the Sun ran a follow-up story on page two, with a picture of Jenvey, with a longer version online.
"Jenvey told how he fabricated the list of Jewish targets by posing as a fundamentalist on an extremist website where he urged others to suggest names," the paper wrote. "He then leaked the made-up list to a trusted news agency, used by The Sun, and online forum Ummah.com was wrongly accused of being used to prepare a backlash against UK Jews.
"Jenvey – who had been described as 'an extremely capable and knowledgeable analyst' by Tory MP Patrick Mercer – said: 'I'm fully responsible for the story. The Sun was deceived. The Sun did not know that I was behind the postings. I would like to apologise to all the British Jews who we scared and I'd like to apologise to The Sun newspaper'."
---
Perhaps a formal apology by the Sun to Ummah.com wouldn't come amiss either.
And as Richard Bartholomew has pointed out, credit for exposing Jenvey should go to Tim Ireland of Bloggerheads.