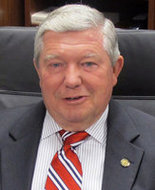 Alabama Democrats aren't shedding any tears over state Rep. Richard Laird's decision to leave the party this week.
Laird, of Roanoke in east Alabama, announced Monday that he was becoming an independent. On Friday, Democratic leaders rebuked Laird for sending an offensive email to legislators and constituents prior to his party switch.
On Jan. 23, Laird sent an email to a group of recipients that included House Speaker Mike Hubbard, R-Auburn, state Rep. Duwayne Bridges, R-Valley, and state Rep. Mike Ball, R-Madison. Also copied on the email was Mellie Parrish of Lineville, a member of the Randolph County Democratic Party Executive Committee.
The message contained a picture of President Obama kissing Democratic U.S. Rep. Nancy Pelosi on the cheek, with a caption that read "the only time you'll see a Muslim kiss a pig."