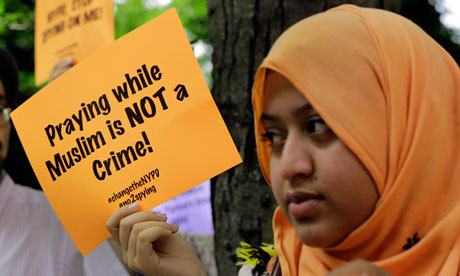 A coalition of 125 civil rights, religious and community groups has written to the Department of Justice, calling for a federal investigation into the blanket surveillance of mosques and other Muslim outlets by the New York Police Department (NYPD).
The coalition, which includes the American Civil Liberties Union (ACLU) and the Council on American Islamic Relations (CAIR), is calling on the attorney general, Eric Holder, to use his powers to launch a federal civil rights investigation into NYPD practices. Once any investigation is completed, the Department of Justice could, if it chose, take civil legal action to put a stop to the controversial surveillance dragnet.
"For over a decade, the NYPD has engaged in unlawful religious profiling and suspicionless surveillance of Muslims in New York City," the letter says. "The NYPD's biased policing practices hurt not only Muslims, but all communities who rightfully expect that law enforcement will serve and protect America's diverse population equally, without discrimination."
The NYPD's focus on Muslim communities in the wake of the 9/11 attacks on the Twin Towers, in 2001, began in 2002 and is ongoing. The city's police commissioner, Ray Kelly, and mayor, Michael Bloomberg, have consistently defended their counter-terrorism strategy.
In a series of Pulitzer-prize winning articles, the Associated Press revealed details of the NYPD's joint surveillance program with the CIA, based on the police department's internal documents. The files showed that the police had designated entire mosques as "terrorism enterprises", allowing them to circumvent normal constraints on surveillance.
The department sent undercover officers, codenamed "rakers", into Muslim neighbourhoods, and ran a network of informants known as "mosque crawlers" to monitor sermons – even when there had been no evidence of criminality. One 2007 NYPD report, titled "Radicalization in the West: the Homegrown Threat", stated that "enclaves of ethnic populations that are largely Muslim often serve as 'ideological sanctuaries' for the seeds of radical thought".
The AP also revealed that since 2003 the NYPD has been mapping New York communities for monitoring, based on whether the local population originates from countries with Muslim majorities.
In the joint letter, the signatories argue that the programme is a breach of the fourteenth amendment of the US constitution, which guarantees equal protection under the law, and the First Amendment right to free expression of religion.
"The statutory requirements are clear," said Hina Shamsi, director of the ACLU's national security project. "When there's a reasonable cause to believe that a pattern or practice of constitutional violation has taken place, then the attorney general has the authority to investigate."
She added: "The NYPD's surveillance program has stigmatized Muslims as suspect and had deeply negative effects on their free speech, association, and religious practice."
A CAIR spokesperson, Corey Saylor, said the surveillance had badly damaged Muslim New Yorkers' trust in their police department: "This is a blatant challenge to the idea of liberty we embrace in America – the idea that you have to do something wrong for law enforcement to surveil you, not just walk around being part of a particular group."
See also "ACLU asks Justice Dept. to probe surveillance of Muslims by New York City Police Dept.", Washington Post, 24 October 2013