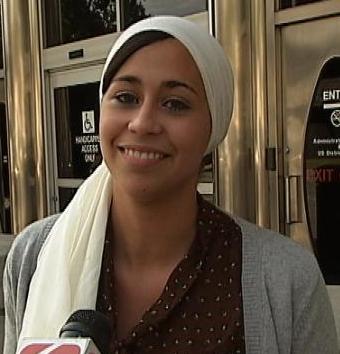 TULSA, Okla. — A federal jury has awarded $20,000 in compensatory damages to a Muslim woman who alleged that Abercrombie & Fitch discriminated against her because she wore a head scarf.
The six-member panel deliberated more than four hours Wednesday before deciding on damages against the clothing retailer.
The Equal Employment Opportunity Commission sued on behalf of Samantha Elauf, who alleged she was denied a job at an Abercrombie & Fitch store in Tulsa's Woodland Hills Mall because she wore a hijab. The hijab is part of her religious beliefs.
U.S. District Judge Gregory Frizzell ruled last week the store violated Elauf's civil rights when it didn't hire her.
Store officials denied any discrimination but acknowledged having a policy that bars headwear. Abercrombie & Fitch officials couldn't be reached after hours for comment.
Associated Press, 21 July 2011
See also News On 6 and Tulsa World.
And "Abercrombie & Fitch lawsuit winner says she sued for all Muslim girls", News On 6, 21 July 2011