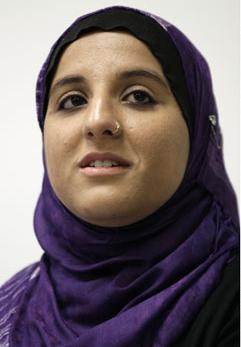 US clothing retailer Abercrombie and Fitch wrongly fired a Muslim worker for wearing a headscarf, a judge has ruled. Federal Judge Yvonne Gonzalez Rogers ruled the firm violated anti-discrimination laws when it sacked Hani Khan from a Hollister brand store.
Ms Khan was initially allowed to wear a scarf in the Hollister brand's colours at the San Mateo, California store, but was later fired. The retailer had argued deviation from its "look policy" would affect sales.
But Judge Rogers of the Northern District of California said Abercrombie had not proven it faced undue hardship to accommodate employees who wear headscarves for religious reasons.
The lawsuit, brought by the US Equal Employment Opportunity Commission, now goes to a trial on 30 September where a jury will determine damages.
Ms Khan had initially been hired at Hollister, a store under Abercrombie and Fitch's corporate umbrella, with the understanding she would be able to wear her headscarf to work, according to court records.
But four months into her employment, a district manager suspended her with pay after Ms Khan refused to take off the covering. She was later fired. Her lawyers argued that there had been no complaints about Ms Khan's performance at work. "I was shocked and surprised when I was asked to remove my hijab [headscarf] and then fired for refusing to comply," Ms Khan said in a statement.
In her ruling, Judge Rogers said Abercrombie lawyers had only offered "unsubstantiated opinion testimony of its own employees to support its claim of undue hardship" and had undercut its own argument by offering to rehire Ms Khan with her headscarf.
Ms Khan was supported by the Council on American-Islamic Relations (CAIR). A spokeswoman said the organisation hoped the lawsuit would push the company to change its policies and clarify religious accommodations. "At the heart of this case is the belief that no-one should ever have to choose between their religion and work," said Zahra Billoo of CAIR's San Francisco office.
See also "CAIR-SFBA, LAS-ELC win judgment against Abercrombie & Fitch in hijab case", CAIR press release, 9 September 2013