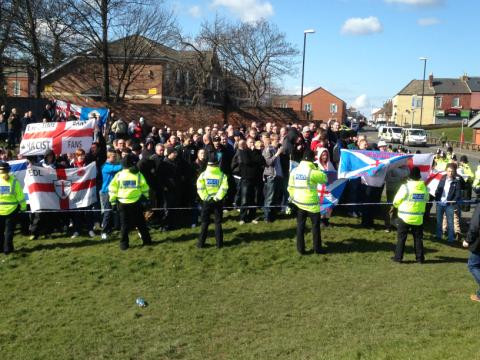 There was yet another far-right protest yesterday at the site of the planned mosque at Millfield in Sunderland. This one was organised by the English Defence League and the North East Infidels.
The Infidels, you may recall, originated in a split from the EDL two years ago. The EDL leadership, who at that point were still trying to maintain the pretence that they had nothing to do with fascism, denounced the Infidels as Nazis – which was an entirely accurate description.
However, following the disastrous Waltham Forest demonstration last September the EDL leadership issued an appeal for far-right unity in a desperate attempt to reverse declining numbers at its protests. As a result, demonstrations have seen increased co-operation between the EDL and the Infidels, for example at Shotton Colliery in December and in Manchester earlier this month.
This latest protest at Millfield marked a new development, however, in that it was publicly promoted as a joint initiative by the EDL and Infidels. Forced to choose between allowing the movement to fizzle out or forming an open alliance with unabashed fascists and white supremacists, the EDL has chosen the latter.
This may have prevented the collapse of the movement, at least temporarily, but it has hardly restored the EDL to the position where it could mobilise thousands of supporters. Sky Tyne and Wear reports that "more than 100" attended the Millfield demonstration yesterday, but this was evidently fewer than the 200 that had been anticipated.
You might also wonder how long this show of far-right unity can continue. Hope Not Hate reports that participants at yesterday's protest ended up fighting among themselves as it finished.
Meanwhile, Hope Not Hate has added to the problems of the local EDL by exposing one its leading figures in Sunderland, Pam Branningan (aka "Angel Unites Patriots"), who runs a charity shop in the city that claims affiliation to Help for Heroes.