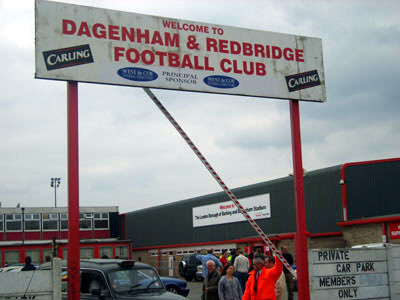 Two teenagers involved in racist chanting at a group of boys at an anti-racism football match in Dagenham have been banned from attending games for three years.
Keith Meredith, of Holgate Road, Dagenham, and Lee Bates, of Seymer Road, Romford, both 18, appeared at Romford Magistrates Court on October 16.
They were among 25 to 30 youths seen and heard shouting abuse at the Tower Hamlets schoolboys during a Daggers Against Racism game with Bradford FC, held in Victoria Road, Dagenham.
The ringleaders of the disorder, which happened on March 3 this year, were ejected from the stadium by police and club security, but only identified through CCTV and arrested later to avoid disrupting the match.
Meredith was found guilty of a racially aggravated section 5 public order act offence and sentenced to a three-year football banning order, £100 fine and ordered to pay £315 in court costs.
Bates, who admitted a section 5 public order act offence, was sentenced to a three year football banning order, £135 fine and ordered to pay £115 in court costs.
On July 29 two boys, aged 16 and 17, pleaded guilty to racially aggravated public order offences. They both received a four-month referral order to a local youth offending scheme and were ordered to pay £75 each in costs. A further 11 people received varying bans direct from the football club following the chants.
Steve Thompson, managing director of Daggers, said: "We welcome the sentences given to Lee Bates and Keith Meredith.
"We aim to provide a club facility that caters for families and gives everyone the opportunity to enjoy the match without the disruption of intolerance or bigotry.
"The club will continue to do everything in its power to take appropriate action against anyone who chooses to be involved in such abuse."
Barking & Dagenham Post, 6 November 2012
See also Metropolitan Police news report, 25 October 2012
You can read an eyewitness account of the abuse to which the Tower Hamlets schoolchildren were subjected here. Racism and threats of violence were accompanied by chants of "E-E-EDL, E-E-EDL".