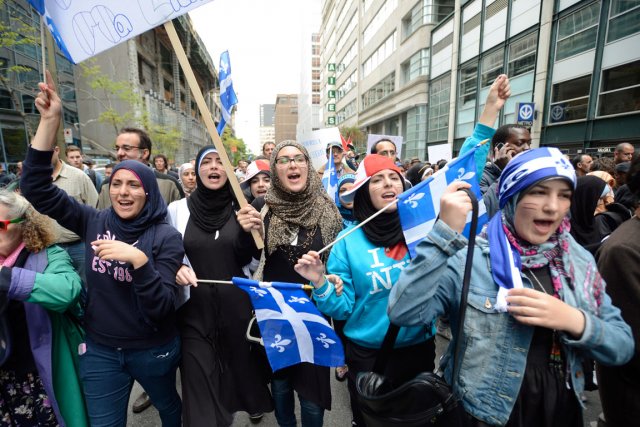 Saturday's demonstration in Montreal against the so-called 'Charter of Values'
The leader of the Quebec Liberals appears prepared to do everything he can to stop the Parti Quebecois government's proposed charter of values – including fight an election over the issue. Philippe Couillard says he's against any law that leads to employment discrimination and that Muslim women who wear a veil will always be welcome in his own party.
The PQ plan will become law "over my dead body," Couillard said Sunday at a party meeting on women's issues in Montreal. "The big mistake that the government is making is to make people believe that, in order to defend what is specific about Quebec, we must trample on other people's rights."
The PQ wants to forbid public employees from wearing religious headwear, including the veil, as part of a proposed charter announced last Tuesday.
Couillard's remarks came after a Quebec woman of Algerian origin wearing an Islamic veil said she and her son were accosted at Place Laurier shopping centre in Quebec City two weeks ago by a woman citing the charter who demanded they change their religion and remove the headscarf.
Badia Senouci said she faults Quebec Premier Pauline Marois's introduction of the charter. She has lived in Quebec City for 14 years without overt discrimination. "Since Ms. Marois wants this charter," Mrs. Senouci told La Presse, "I see this tension and these hateful glances directed towards us." She said her 18 year old son intervened with the woman who then spat in his face.
Her husband, Abdelmalek Mansouri, said he is considering plans to leave Quebec with his family because he fears that the Muslim community will be increasingly targeted by such attacks. "It's as if we were guilty," said Mansouri, a computer scientist at the Quebec transport ministry, "[but] we have been the victims!"
"When we came here, it was for our children," Mrs. Senouci said. "We wanted a true free country. We had seen the advertisements of Canada [that] spoke of a society of law where there was no racism . Now I have questions." The 47 year old woman operates a home daycare, but said she does not wear the veil in front of children.
Mr. Mansouri said that he had filed a complaint this week with the police and was waiting to see whether an attorney would file a charge against the woman.
A protest against the charter on Saturday in Montreal drew several thousand people, while a petition against it already has more than 10,000 signatures.
Yasmine Filali Baba, a Concordia University student who wears a headscarf, said it should be up to each woman to make her own choice. "A government that tells you what to wear and what not to wear, especially a woman, sounds very oppressive," said Baba, a religious studies major who is considering becoming a teacher. "It makes me feel I'm unwelcome in my home. I'm a Quebecer and a Canadian."
The party that holds the swing vote in Quebec's national assembly, however, has left the door open to compromise. Francois Legault, head of the Coalition, said Sunday he's hopeful the PQ will soften its position. "After they see what happened yesterday in Montreal, I hope they'll understand that they need to find a compromise," said Legault, who has advocated a ban on religious headwear for those in positions of authority.
National Post, 16 September 2013
See also "Quebecers divided over headscarf, turban ban: Poll", QMI, 16 September 2013
Update:  See "Quebec Muslim Badia Senouci told: 'change your religion'", CBC News, 16 September 2013