A woman who died after being attacked on a footpath may have been targeted because of her Muslim dress, police have said.
The woman, who was in her early 30s, was walking on the Salary Brook trail in Colchester when the incident happened at 10.40am on Tuesday. Paramedics tried to save her but she died at the scene from head and body injuries.
Essex police confirmed she was wearing a dark navy blue abaya, or full-length robe, and a patterned multicoloured hijab headscarf.
A 52-year-old man from the Colchester area was arrested on Tuesday night in connection with the incident. DS Tracy Hawkings said officers were keeping an open mind about the motive of the attack.
However, she added: "We are conscious that the dress of the victim will have identified her as likely being a Muslim, and this is one of the main lines of the investigation. But, again, there is no firm evidence at this time that she was targeted because of her religion."
Detectives want to hear from anyone who used the trail between 8.30am and 11am that day. They have also asked residents to check their gardens and rubbish bins for any discarded weapons or bloodstained clothing.
The victim is believed to have left her home in nearby Woodrow Way before joining the path shortly before her death.
Hawkings said: "We have not yet been able to formally identify the victim, but we believe we know who she is and specially trained family liaison officers are speaking with her family now. A forensic postmortem is due to be carried out this afternoon to establish the cause of death, but at this time it would appear that a knife or other bladed weapon was used in this attack.
"The victim also suffered facial injuries, but the cause of these has yet to be established. We have no further detail on the murder weapon, or weapons, at this time. If anyone comes across any suspicious items which they think could be connected to this murder, we would ask them to call us."
Press Association, 18 June 2014
Update:  See "Footpath victim was Saudi student", Press Association, 18 June 2014
Update 2:  See also "FOSIS condemns horrific murder of female Muslim student", FOSIS press release, 18 June 2014
Update 3:  See "Colchester Muslim murder: woman identified as Nahid Al Manea", IB Times, 19 June 2014
Update 4:  Here is Ed Husain, formerly of the Quilliam Foundation, blaming the victim: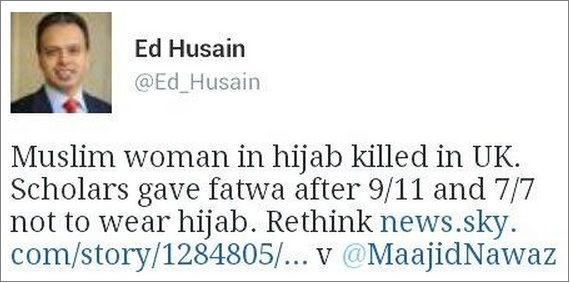 Update 5:  See "Muslim PhD student fatally stabbed 16 times in 'frenzied' attack", Daily Telegraph, 19 June 2014