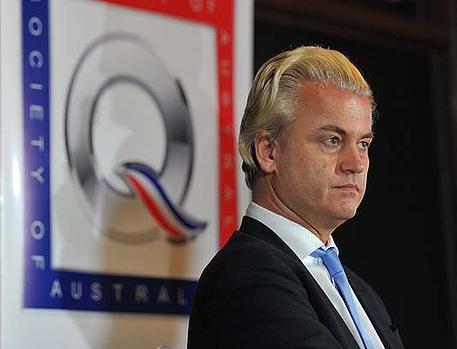 All Muslims should renounce their religion immediately in favour of Christianity or atheism – it would be better for them and for everyone else, controversial Dutch politician Geert Wilders said in Melbourne on Monday.
Insisting politely that he did not want to incite or offend anyone, the anti-Islam campaigner described the Prophet Muhammed as "a warlord, terrorist and paedophile" and urged Australia to ban the Koran and all migration from Muslim countries.
Told that Premier Ted Baillieu had advised Victorians to ignore Mr Wilders, he said the Premier could ignore the threat of Islam and "sing Kumbayah" all day long, but the voters would wake up eventually.
Mr Wilders was speaking to the assembled media at a secret location 40 minutes' drive north-west of Melbourne, of which they were notified only in the morning. Media had to register in advance, show ID on arrival and pass several burly men in dark suits with black radio earpieces.
Mr Wilders – impeccably dressed and coiffured, a polished media performer who never raised his voice despite some hostile questioning – said Islam was a totalitarian system that was incompatible with freedom. Individual Muslims might integrate into Western countries, but Islam never could.
"I am here to talk about the Islamisation of Europe," he said. "If you think what happened in Europe will not happen in Australia, you are totally wrong."
He said he did not oppose the multiculturalism on which Australia prides itself, but cultural relativism, "the crazy idea that all cultures are equal, so you don't have a dominant culture".
He said Islam was based on the Koran, which contained more anti-Semitism than Hitler's manifesto Mein Kampf, and on the example of the life of the prophet Muhammed.
"Muhammed was a warlord, terrorist and paedophile (who slept with a wife when she was nine). If 1.5 billion people think he is the best example to follow it's fair and necessary to analyse it and be able to talk about it. I call on all the Muslims in the world to leave Islam for Christianity or atheism or whatever they want. This will be good for them and also for our free society."
Australian Multicultural Foundation CEO Hass Dellal said that call was so outlandish there was no sensible reply. "He is full of contradictions and is wrapped up in his own notoriety. He never speaks of tolerance, understanding or cohesion," Mr Dellal said.
Islamic Council of Victoria past president Ramzi Elsayed said Mr Wilders remarks simply showed ignorance. "He seems to be losing rationality in his argument," he said.