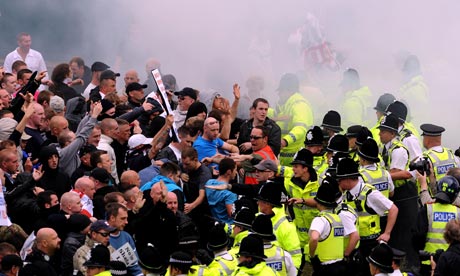 EDL supporters clash with police during protest in Bradford in August
A demonstration to be held in Amsterdam by the ultranationalist English Defence League (EDL) has met with strong disapproval from Dutch anti-Islam Freedom Party leader Geert Wilders. "I have no involvement with this demo, I've never been in touch with the EDL," the MP told daily De Telegraaf on Tuesday. The protest is planned for Saturday 30 October, just before the verdict is due in a hate-incitement court case against Mr Wilders next week.
The EDL is a self-appointed group claiming to protect England from radical Islamists, targeting Jihadist preachers and "standing up for English culture". Their demonstrations have a tendency to spark counter-protests and violence. Referring to this, Mr Wilders said, "Should this demonstration really happen, I would like to emphasise that I abhor any form of violence. If there's the remotest chance of escalation, I'd rather they call off the protest. Perish the thought that this turns into a battle. That's the last thing I need."
On its website, EDL says it "goes European in support of Geert Wilders", without clarifying that the support was unsolicited by the Dutch MP.
It's not difficult to work out the reason for Wilders' sudden aversion to anti-Muslim extremism. A gang of racist football hooligans rioting on the streets of Amsterdam on the eve of the verdict being announced in his trial will hardly assist his cause. But what will EDL admirer Pamela Geller have to say about Wilders' cowardly refusal to take a stand against the Muslim hordes alongside this leading force in the "counter-jihadist" movement? We look forward to a piece at Atlas Shrugs denouncing the "dhimmi Geert Wilders".