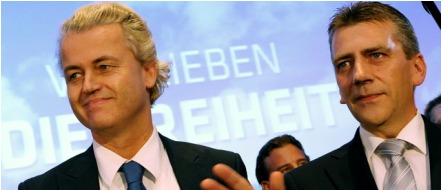 In a speech in Berlin Saturday, Dutch far-right lawmaker Geert Wilders said Germany needed a political party that could defend against what he called the dangers of Islam. His visit sparked angry protests.
Populist Dutch politician Geert Wilders, known for his strident anti-Islam and anti-immigration views, has held a speech in a Berlin hotel amid protests outside the venue.
"Germany too needs a political movement that defends the national identity of the country. Germany's political identity, its economic success, is threatened by Islam," Wilders told an audience of some 500 people at a hotel in Berlin's Tiergarten district. "Islam is a dangerous political ideology for everyone," Wilders, who is facing prosecution in the Netherlands for incitement to hatred, said.
The 47-year-old was invited to Berlin by a party founded in September by Rene Stadtkewitz, a former member of Angela Merkel's Christian Democrats (CDU) who is also a critic of Islam.
The event sparked protests in front of the hotel. Police said some 80 left-wing demonstrators holding up banners reading "Berlin Against Nazis – it's our Right to Stop Them" and "Send Geert Wilders home" rallied in front of the hotel.
Deutsche Welle, 2 October 2010