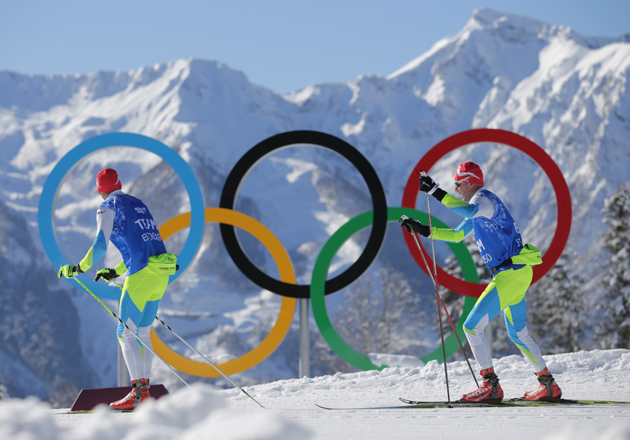 Russian president Vladimir Putin calls Sochi, site of February's Winter Olympics, "the biggest construction site on the planet," and for good reason.
Since being awarded the games in 2007, the sub-tropical Black Sea city has built 442 miles of fiber-optic cables, 200 miles of roads, 55 bridges, 13 train stations, nine hotels for media outlets, six post offices, five schools, a new airport, a $265 million ski jump, a bobsled track, a ski course, two Olympic villages, an 815-acre floating archipelago, and a partridge in a pear tree.
But one item on local residents' wish list was met with a pocket veto—a request to build a mosque for Sochi's 20,000 Muslim residents, many of whom have migrated to the city over the last decade to take jobs building the Olympic facilities.
The mosque issue has long been a sore spot in Sochi, where Muslim leaders have been pushing for a new place to worship since 1996. "I'm so tired of writing letters – whole files – it just drags on and on," a Muslim organizer told the Norwegian news organization Forum 18 in 2006. One decade after the fall of the Soviet Union, the city's Muslims were still holding religious ceremonies in cramped basements.
In a 2009 visit to Moscow's Cathedral Mosque, the nation's largest, then-president Dmitry Medvedev was asked by the head of the Russian Mufties Council if would support a Sochi mosque project. Medvedev said yes. But in the years since, talks between Muslim leaders and the city government have largely fizzled.
But city leaders, such as deputy mayor Anatoli Rykov, have argued that there's already a mosque nearby – 50 miles outside the city in the mountain village of Tkhagapsh, population 180. Tkhagapsh is 2 hours and 27 minutes by car from downtown Sochi, and the city's brand new light rail line, hubbed at the country's newest, largest train station, doesn't go there. The mosque is a one-room wood-frame building.
In February of 2012, Sochi mayor Anatoliy Pakhomov reached an agreement with Vyalit Ilyasov, a leader of the local Muslim group Yasin, to build an Islamic cultural center with prayer rooms for men and women – but still no mosque.
The city's lack of accommodations for Muslims is in part a product of a dark regional history. The Russian government is largely deferential to Islamic customs in historically Muslim areas, but although Sochi is in the foothills of the Caucasus mountains, a Tsarist purge in the 19th century killed hundreds of thousands of ethnically Circassian Muslims and displaced many more. In the 1930s, the last surviving mosque in the region – in Tkhagapsh—was shut down.
Athletes in Sochi, at least, won't have to worry about finding a place to pray. "The Sochi 2014 Organizing committee is ensuring that prayer rooms are available for various religious during the Olympic and Paralympic Winter Games," the Sochi Olympics organizing committee said in a statement. "As with previous Games, multi-faith centers will be available in the Olympic and Paralympic villages with five separate prayer rooms in each for followers of Buddhism, Christianity, Hinduism, Islam and Judaism."
And there's a chance Sochi may yet get its mosque. In January, Askerbiy Kardanov, Chairman of the Spiritual Administration of Muslims of Adygea and the Krasnodar Territory (which includes Sochi), told reporters that plans for the long-awaited mosque project would pick up again after the Olympics, when the city would be looking for new uses for its Olympic villages and acres of asphalt. "The first thing [is] to find a suitable place for the construction of God's house," he said, according to Caucasian Policy.
But Sochi's impasse only underscores the larger issues facing religious freedom in Russia. The mining city of Kostomuksha recently scrapped a mosque construction project, approved six years ago, due to local protests. Another approved plan, for a mosque in the steppe city of Novokuznetsk, also fell through. And as international religious freedom advocate Katrina Lantos-Swett pointed out at an event at Washington's Heritage Foundation last week, Moscow "has two million Muslims, but only four mosques" – a number that's not likely to change now that mayor Sergei Sobyanin has said the city has reached its limit.
In Putin's Russia, there's at least one construction boom the government can't seem to get behind.