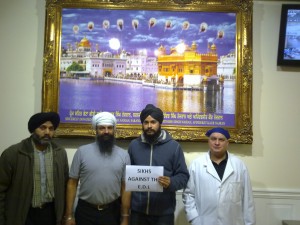 Pickled Politics has picked up on the ultimatum issued by the Sikh community to Guramit Singh of the English Defence League, warning that they will call for his excommunication unless he renounces the EDL. Jai writes:
"As confirmed by the extensive list of signatories involved, this action is endorsed by the British Sikh population, including numerous influential Sikh temples & organisations across the United Kingdom, particularly in London and Birmingham. This includes the two largest Sikh temples outside India….
"In complete violation of core Sikh tenets, Guramit Singh has been heavily involved in the EDL's persecution of ordinary Muslims en masse whilst explicitly representing himself as a Sikh and claiming to be acting in the name of Sikhism, including deliberately modifying & grossly distorting sacred verses by the Sikh Gurus in order to 'inspire' EDL members present during his foul-mouthed public speeches demonising Muslims, Islam and the Prophet Mohammad.
"Guramit Singh's excommunication would therefore be entirely in line with historical precedents during the time of the Sikh Gurus along with the temporal authority permanently bequeathed to the Khalsa by the 10th Sikh Guru Gobind Singh."