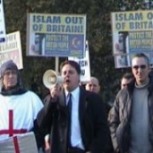 The impact of Saturday's planned English Defence League demonstration in Manchester has rightly been highlighted in coverage of the desecration of Muslim graves in the city's Southern Cemetery. But the role of the British National Party in inciting hatred against Manchester's Muslim community should not be ignored.
In recent weeks the BNP have conducted a hysterical campaign ("Genocide: how Islamic colonisation destroys your heritage") against the conversion of a derelict church in Longsight into an Islamic Centre. The BNP made a particular issue of what they falsely claimed was the demolition of the (long disused) cemetery:
"The bloodless genocide and ethnic cleansing of the British people and culture continues apace with the latest example being the ripping up of a century old Christian cemetery to make way for a mosque in Manchester. The grave desecrations, being carried out with a large Komatsu earthmover in the graveyard of the St John the Apostle and Evangelist church at the corner of Holmfirth Street and St John's Road, is part of the re-opening of this nineteenth century church as the Dar-ul-Ulum Qadria Jilania 'Islamic Centre'….
"These Christian British graves – the only remnant of the now ethnically cleansed British people in the area – are obviously offensive to the Muslim colonisers, who have brought in the earthmoving machine to smash up the gravestones which are being literally crushed to rubble. St John the Apostle and Evangelist church is a real time history lesson of what will happen to Britain unless the insane multicultural Lib/Lab/Con genocidal policies of mass Third World immigration are not only brought to an end, but reversed."
Of course, in line with their new respectable image, the lesson drawn by the BNP is that the "indigenous population" should cast a vote for their party in elections: "The British voters will soon be faced with a choice between their continued extermination at the hands of the Lib/Lab/Con ethnic cleansing party, or their survival as a free and independent indigenous people with the BNP."
But it is hardly surprising that this sort of inflammatory language should have motivated some of the BNP's supporters to take more direct action against the "Muslim colonisers".