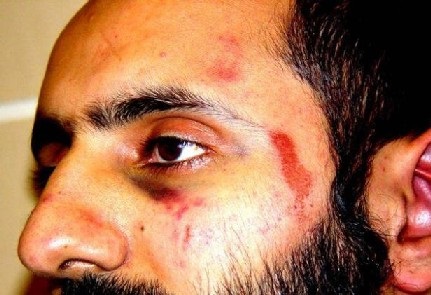 A computer expert who is awaiting extradition to the United States to face terrorism charges, was beaten up by police officers during a dawn raid on his home, a London court was told on Wednesday.
Officers wearing helmets and protective clothing punched and violently assaulted Babar Ahmad, a Muslim, and mocked his religion after smashing their way into his south London house in December 2003, Southwark Crown Court heard.
Four of the officers from London's Territorial Support Group (TSG) are accused of assaulting Ahmad during the arrest which was made on behalf of the counter-terrorism branch.
Prosecutor Jonathan Laidlaw said that before the raid, the officers were briefed that Ahmad had received terrorism training and had fought overseas in support of holy war, the Press Association reported.
Ahmad was never charged in relation to his arrest but is in custody awaiting extradition to America for alleged terrorism offences. British courts have granted the extradition but Ahmad appealed and the case has not yet been resolved.
Laidlaw said the police had feared Ahmad would resist during the raid on his home but in fact he had remained submissive. "Dressed only in his pyjamas and barefooted, Mr Ahmad raised his arms above his head to indicate that he was not going to fight or to present any sort of danger or threat to the police," he told the court. However, one officer threw himself at Ahmad, knocking him against a bedroom window, which smashed. Shouting and swearing, the officers then punched and beat him to the floor.
He was handcuffed and, despite being restrained, the assaults continued, Laidlaw said, before Ahmad was taken downstairs to his prayer room and put in a Muslim prayer position. Officers then asked "Where is your god now?," the court heard. Ahmad was then put in a police van where the assaults continued until he was driven to a police station.
"There was more punching, further pulling up and pressure being applied by the manhandling of the handcuffs and Mr Ahmad was held in headlocks. The taunting and verbal abuse also continued," Laidlaw said. When the victim arrived, battered and bruised, at the station, the defendants pretended he had violently resisted. "It was a lie that all four defendants persist with to this day," Laidlaw said.
The four accused are police constables Mark Jones, Roderick James-Bowen and Nigel Cowley, and Detective Constable John Donohue. They deny the charge and the trial continues.