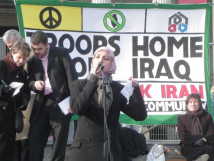 Don't miss tonight's Dispatches, on Channel 4, 8pm, which is billed as a counterblast to rampant Islamophobia.
It is presented by Peter Oborne, who has also written a pamphlet on the question. Oborne is a conservative commentator, which means that his intervention against what he calls "Britain's last remaining socially acceptable form or bigotry" is therefore all the more newsworthy.
Salma Yaqoob, Birmingham Respect councillor, said:
"This is a very welcome pamphlet by Peter Oborne and it was pleasing to see his piece in the Daily Mail. While there is a deluge of negative images and reports about Muslim communities – as a study this week by researchers at Cardiff University has again detailed – there are voices speaking out. Tonight's Dispatches programme on Channel 4 at 8pm looks set to be another powerful intervention.
"We in Respect are especially pleased by these developments as we see building a broad coalition against Islamphobia as critical to pushing it back."