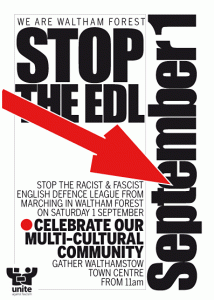 With just a day to go before the racist English Defence League (EDL) tries to march in Waltham Forest, east London, anti-fascist activists in the local community are having a final push to build opposition.
"I don't like it that a group of racists will be marching here tomorrow – no one needs or wants them," Osman, a local market trader, told Socialist Worker. "But it has been really good to see people coming together to oppose them. Hopefully the EDL will be stopped."
Mosques in Waltham Forest have been promoting the counter demonstration. The borough's council of mosques has released a statement encouraging people join the We Are Waltham Forest demonstration.
Mr Rashid is secretary of the Lea Bridge Road Masjid. He told Socialist Worker, "The only way to stop the police letting the EDL march is to make sure they are out on the streets against them. We've been publicising the anti-EDL demonstration at every prayer and event we've held – and we've received a positive response each time."
Anti-racists held a final leafleting session on Friday in Walthamstow's busy market.
"The fear people had of the EDL has gone – it's now turning into anger," said Roger from We Are Waltham Forest. "We've had a lot of young people saying they will be coming and that their friends will be there too."
The EDL march will take the racists past Forest Road fire station. Firefighters there are planning to line the road to jeer them as they pass.
"We totally condemn the EDL coming to Walthamstow in this provocative manner," said Tim Roedel, borough secretary of the firefighters' FBU union. "We will have members from London at the counter demonstration. And our members at Forest Road are planning to show their opposition to the EDL when they pass the fire station."
Ursla from We Are Waltham Forest told Socialist Worker, "A lot of people have been out today to have a final push to build the demo. When you walk around the area you can see a lot of posters, not just in shop windows but in people's home windows.
"We have even had young children saying they are making their own placards at home. Everyone opposed the racism should be at the demo tomorrow because we are going to stop the EDL."