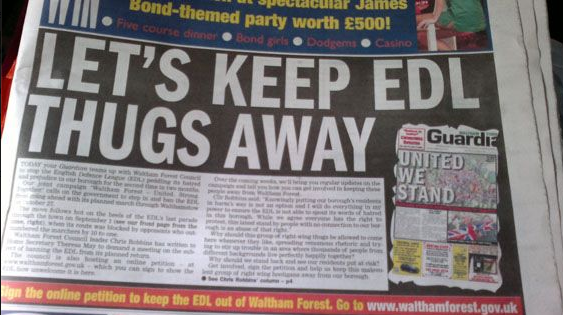 Today your Guardian teams up with Waltham Forest Council to stop the English Defence League (EDL) peddling its hatred and prejudice in our borough for the second time in two months.
Our joint campaign "Waltham Forest – United. Strong. Together." calls on the government to step in and ban the EDL from going ahead with its planned march through Walthamstow on October 27.
The move follows hot on the heels of the EDL's last parade through the town on September 1, when its route was blocked by opponents who outnumbered the marchers by 10 to one.
Waltham Forest Council leader Chris Robbins has written to Home Secretary Theresa May to demand a meeting on the subject of banning the EDL from its planned return.
The council is also hosting an online petition – which you can sign to show the EDL how unwelcome it is here.
Over the coming weeks, we'll bring you regular updates on the campaign and tell you how you can get involved in keeping these people away from Waltham Forest.
Cllr Robbins said: "Knowingly putting our borough's residents in harm's way is not an option and I will do everything in my power to ensure the EDL is not able to spout its words of hatred in this borough. While we agree everyone has the right to protest, this latest stand by people with no connection to our borough is an abuse of that right."
Why should this group of right-wing thugs be allowed to come here whenever they like, spreading venomous rhetoric and trying to stir up trouble in an area where thousands of people from different backgrounds live perfectly happily together? Why should we stand back and see our residents put at risk?
Get involved, sign the petition and help us keep this malevolent group of right wing hooligans away from our borough.
Waltham Forest Guardian, 21 September 2012
In his letter to Theresa May, Chris Robbins states: "We called for a ban on the last march, but also encouraged residents to stay away from any counter protest. We refuse to do this again and will instead be calling on our whole community to come out and show everything that is great about the tolerant and diverse community who live here."
We understand that Chris Robbins also sent a copy of this letter to London mayor Boris Johnson asking for his support. It would be interesting to know what Johnson's response was.
[Illustration from EDL News]