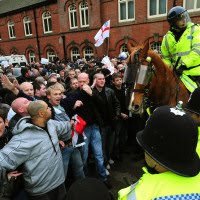 Violent clashes have erupted between police and members of the English Defence League (EDL) during a city centre protest.
Some 500 demonstrators from the EDL, many of whom had been drinking all morning, marched through Nottingham shouting: "We want our country back."
The hundreds of officers, many of whom had been drafted in by Nottinghamshire Police, surrounded the rally. Officers mounted on horses were forced to keep back some of the demonstrators with batons while some constables had dogs to try and contain the violence.
Many of the demonstrators had their faces covered with hooded tops and scarves and shouted: "Allah, Allah, who the f*** is Allah?"
Other protesters had Union Jacks and St George's flags which they either waved or wrapped around their shoulders as a police officer barked instructions at the crowd from a helicopter circling overhead. Some of the group waved placards which read: "Protect Women, No To Sharia" and "No Surrender".
Press Association, 5 December 2009