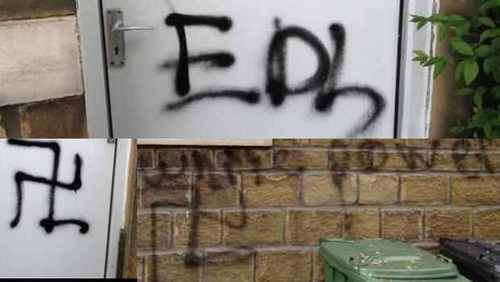 A family has had racist graffiti sprayed on to the home it moves into today.
Andre Bell and his wife Elly were shocked to discover their new home in Scholes, Holmfirth, was pelted with eggs, and had a Nazi swastika and the acronym for a far-right party spray painted on to the doors and walls. Just days after the couple got the keys to the home, offensive words were daubed onto the exterior walls and doors of the council house.
Mr Bell said he was shocked about the incident, which has been reported to the police and Kirklees Council, and hopes someone will tell police who is responsible.
The family will move from Crosland Moor to Scholes today but viewed the house and got the keys last week.
Mr Bell said: "We were waiting for new carpets and blinds before we moved in. On Wednesday the windows were egged and one put through the letter box, I don't know if it was kids who did it or not. My wife went to clean it up but was going to go back the next day to clean inside when the graffiti was done."
In black paint, the Nazi swastika symbol was sprayed onto the house walls and a further swastika on the rear door. The letters EDL, which stands for the English Defence League – a party which says it is "fed up with Islam" – was daubed on the property's front door. There was also an obscene drawing and the words "white power" and other offensive words, which the Examiner cannot print.
"I went to speak to neighbours to ask if they'd seen anything and they were shocked by it," Mr Bell added. "One man said he'd never seen anything like it in the 24 years he'd been there. I haven't been approached by anyone in a confrontational manner, so it came as shock. It's a nice area, especially for our children. I don't want to make any assumptions about who it is, children or otherwise."
The couple will move into the house today with five-year-old Shawn and three-month-old twins Gabriel and Nathaniel.
Mr Bell contacted the council on Friday, when the graffiti was seen by officials, and the matter was reported to the police. Anyone with information about the culprit is asked to contact Kirklees police on 101.