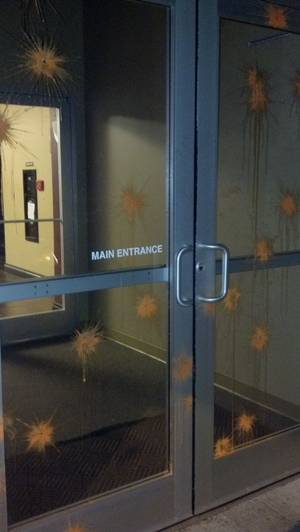 The Grand Mosque of Oklahoma City was fired upon by paintballs early Sunday, and the vandals fled the scene before they were apprehended.
About 2:45 a.m., the vandals pulled into the parking lot of the Grand Mosque, 3201 NW 48, and fired upon the building's doors, Hassan Ahmed, the mosque's imam and director said.
"A car pulled here in front of the main entrance and started shooting paintball guns, but at the time, I didn't know it was that. I thought it was bullets they were shooting into the building. And I could hear when I was coming from the house, but before I reached there, they were gone," Ahmed said.
Police arrived a few minutes later, but by that time, the vandals were gone. The paint splatter was removed early Sunday, and it doesn't appear that any further damage was done to the building, Ahmed said. "I'm speechless. I cannot believe this is occurring in Oklahoma, where diversity and religious tolerance is always there," he said.
The incident was captured on surveillance video, which has already been given to the police. Police had added extra patrols, and Ahmed is thinking about hiring security officers. "And you know the only concern now we have is the upcoming holiday on Sunday …. We are expecting over a thousand people to worship here and celebrate the end of Ramadan," he said.