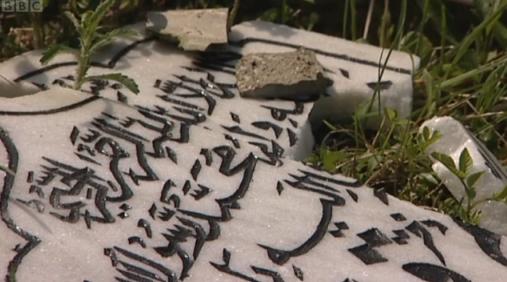 Vandals have attacked 20 Muslim graves at a cemetery in High Wycombe, Buckinghamshire. Headstones were pushed over and ornaments from the graves strewn around the cemetery in Hampden Road. The graves were vandalised between 2100 BST on Wednesday and 0800 BST on Thursday.
Thames Valley Police said it took the incident extremely seriously and was supporting families and the community as well as hunting the vandals. Supt Gilbert Houalla said:
"I am disgusted that these people could be so thoughtless and cowardly and cannot believe that anyone could do something so unbelievably shocking to the graves of loved ones. The community should feel reassured that we take incidents of this nature extremely seriously and will be doing all that we can to ensure that those responsible are brought to justice.
"It appears that the vandals have specifically desecrated Muslim graves and I am at a loss as to what was going through the minds of those involved. This is not only an attack on the Muslim community but is an attack on us all. We must now all work together to find whoever has done this."
See also Bucks Free Press, 21 April 2011
For the likely inspiration behind the attack see here, here and here.
Update:  See "Community outcry after Muslim graves desecrated in High Wycombe", Bucks Free press, 24 April 2011