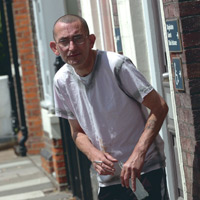 Police hope the the amount of graffiti in Hanworth will drop dramatically following the conviction of a racist vandal. Robert Whitehouse admitted scrawling offensive graffiti all over Hanworth and was jailed for two months on July 11 at Feltham Magistrates Court after being caught in the act on May 2 spray painting an anti-Islamic message.
Sgt Darren Weston, who leads Hanworth Park Safer Neighbourhood Team (SNT), said: "We've had an ongoing problem with racist graffiti but this was the most intensive campaign we've seen."
Whitehouse, 42, of Almond Close, Feltham, pleaded guilty to charges of committing racially and religiously-aggravated criminal damage and going equipped to charge criminal damage and saw his sentence cut from 12 to eight weeks in light of his guilty plea. .
"We were driving around looking for the person responsible," said arresting officer PC Adam Pearson-Smith. "It had been going on for about four months and we kept missing him by a little bit so we were delighted to finally catch him."
When the officers stopped Whitehouse and demanded he turn out his pockets they found a spray can and stickers referring to the far-right British National Party.
Sgt Weston added: "Graffiti is a high-priority issue for our residents who have told us it gives a poor impression of the area and makes them feel unsafe. We hope they'll be as pleased as we are."