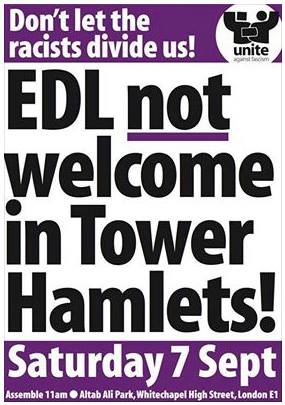 Pressure on the police and Home Office to ban a planned march by far right group the English Defence League is mounting after fresh calls for it to be stopped.
Members of community and faith group coalition United East End have signed a letter circulated by Tower Hamlets Mayor Lutfur Rahman calling on home secretary Theresa May to step in and ban the march.
The EDL announced in May that it plans to march through Tower Hamlets on September 7 as part of a series of scheduled protests in cities across the UK. Representatives from United East End have now signed a letter circulated around the borough calling for the protest to be banned.
Glyn Robbins, who is chair of the group, said: "The EDL stands for bigotry. They are not welcome here. Our unity and diversity is our strength – and the people of the East End will not allow the EDL to divide us."
Members of United East End include the East London Mosque, Tower Hamlets Inter Faith Forum, East London Central Synagogue, and trades union Tower Hamlets UNISON, the National Union of Teachers, and Unite.
Anti-fascist demonstrators have also called for the event to be banned, and are planning a counter-demonstration in Tower Hamlets on the day of the planned EDL march. And Labour politicians in the borough repeated calls for the police and Home Office to stop it going ahead.
Labour's Mayoral candidate and London Assembly Member John Biggs said: "I understand and support our community wanting to stand against the EDL and in support of the peaceful lives we enjoy in our borough."
Police are not expected to make a decision on whether to apply to the Home Office to ban the protest until closer to the date.
East London Advertiser, 16 August 2013
See also "London organises for September 7th", UAF news report, 14 August 2013