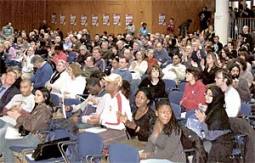 Over 600 anti-fascist activists from around the country met in London on Saturday of last week for a lively and determined conference organised by Unite Against Fascism. The conference discussed stopping the British National Party (BNP) at the 4 May local elections.
Several speakers highlighted how the BNP was seeking to exploit the current climate of Islamophobia, especially in the wake of the anti-Muslim cartoons row and the recent acquittal of BNP leader Nick Griffin on four race hate charges. The Nazis are trying to bill the May elections as a "referendum on Islam".
The conference was the largest of its kind for over a decade, attracting a third more delegates than Unite's previous national meeting held in February last year.
Socialist Worker, 25 February 2006
See also the conference report on the UAF website