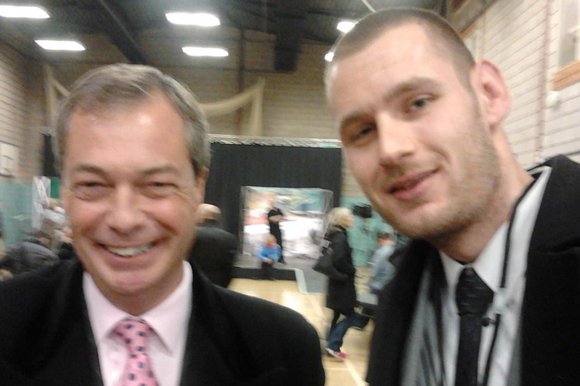 A UKIP local election candidate was suspended yesterday after The Sunday Times exposed his support for the far-right English Defence League (EDL).
Chris Scotton, 24, faces expulsion from the party after repeatedly endorsing the EDL on Facebook and indicating that he has been an activist for the movement, which has gained notoriety for violent protests against Islam.
Scotton, who was due to stand in Leicestershire in Thursday's council elections, also appears to trivialise racism on Facebook and "likes" a site called: "I hate [it] when I lose my black friend in the dark."
His suspension will come as an embarrassment to Nigel Farage, the UKIP leader, who admits his party does not have the resources to vet its 1,700-plus candidates properly.
UKIP is predicted to win about 40-50 council seats this week and seriously damage Conservative prospects.
However, the unsavoury views and backgrounds of some of its candidates threaten to jeopardise its chances.
Yesterday a UKIP candidate in Suffolk was forced to resign after admitting to being a former member of the British National party (BNP). It also emerged that a candidate in Kent, who previously acted as an election agent to Farage, was once a National Front (NF) activist.
Scotton, who says on the internet that he has struggled to find a permanent job since leaving school at 16, has endorsed, or "liked", at least eight pages related to the EDL on Facebook, including the page for the movement's Leicester branch.
In November 2010 he sent a message to the EDL in Leicester with a link to a Vanity Fair article highlighting the organisation's violent anti-Muslim demonstrations. Scotton said in his post: "Duno [sic] if you guys have seen this, we get a little mention in it."
Scotton also "likes" Facebook pages attacking mosques and halal food, as well as a site called: "Racism?? Naa Mate its just ethnic banter."
On Friday Farage said UKIP would not tolerate EDL supporters. "They are completely on our proscribed list," he said. "I have done everything I can to insulate us from this problem."
That has not prevented the EDL from throwing its weight behind UKIP. Stephen Lennon, the EDL leader, who has been convicted of assault, said the two organisations shared similar views on immigration and militant Islam.
Lennon said EDL supporters could vote for any party, including the BNP. But he added: "Personally, I feel they are wasted votes and that people should vote UKIP. They are the only party that can bring about change."
Yesterday Alan Ryall, a UKIP candidate for Wickham in Suffolk, resigned after admitting he had been a BNP member for "one or two years" in the past. Ryall, 63, said he had not been asked by UKIP about his lapsed BNP membership.
Martyn Heale, who is standing for UKIP in Ramsgate, Kent, will escape any censure despite previously contesting local elections for the NF.
Heale, 62, was an organiser for the far-right party in London in the late 1970s. He has stated his involvement was "a bad decision" that he blames on "youth". Heale later joined the Tories, before switching to UKIP in 2003. However, UKIP rules banning former members of far-right parties were introduced much later and do not apply retrospectively.
Last week a UKIP candidate in Boscastle, Cornwall, was expelled after it emerged she had failed to declare her former BNP membership. A candidate in Crowborough, East Sussex, was suspended after she appeared to blame Jews for the Holocaust — although she claims her Twitter account was hacked.
Scotton refused to comment, but last night he started removing any far-right or racist links from his Facebook page.
UKIP said the EDL did not have card-carrying members, but it appeared Scotton had identified himself as an active supporter. "He will be suspended as a UKIP candidate and we will be investigating his case."