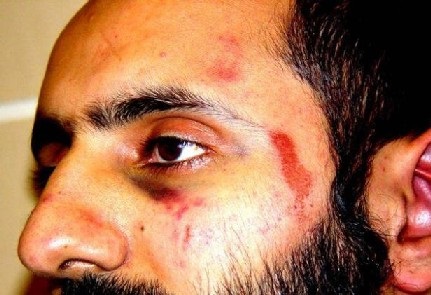 Four police officers accused of beating up a Muslim terrorism suspect and mocking his religion were cleared of any wrongdoing by a London court on Friday.
The officers from London's Territorial Support Group (TSG) were on trial on charges of violently assaulting Babar Ahmad during a dawn raid on his home in December 2003 as part of a counter-terrorism operation.
In 2009, the Metropolitan Police admitted wrongdoing over the arrest and paid Ahmad £60,000 in damages. However, the officers' lawyer said a listening device planted in Ahmad's home before his arrest backed their account of events.
A jury at Southwark Crown Court took less than an hour to clear Police Constables Roderick James-Bowen, Mark Jones, and Nigel Cowley and Detective Constable John Donohue of causing actual bodily harm. "The officers look forward to returning to work. They are hoping that they will be able to put these unfounded and unsubstantiated allegations behind them," their lawyer Colin Reynolds told reporters.
Ahmad, 37, was never charged in relation to his arrest but is in custody awaiting extradition to America for alleged terrorism offenses. British courts have granted the extradition but Ahmad appealed and the case has not yet been resolved.
Prosecutors told the court that before the raid on Ahmad's south London home, officers had been briefed that he had received terrorism training and had fought overseas in support of holy war.
Police had feared Ahmad would resist but prosecutors said in fact he had remained submissive. It was alleged that he was assaulted despite being restrained and officers had put him in a Muslim prayer position and asked him "Where is your God now?" When he arrived at the police station, pictures showed he was battered and bruised.
However, the four constables denied Ahmad's claims and said he had violently resisted and that had led to his injuries.