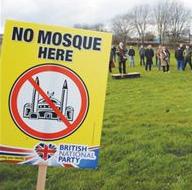 Demonstrations by the British National Party and Unite Against Fascism in Rotherham passed peacefully, police said.
Seven BNP supporters were given section 27 dispersal orders. Two were arrested for breaching these orders.
About 40 turned out for the far-right party near the B&Q roundabout to protest plans for a replacement Chapel Walk mosque.
Rotherham Advertiser, 18 March 2013
See also The Star, 18 March 2013
---
The anti-mosque protestors were addressed by the BNP's phoney Christian minister the "Reverend" Robert West. According to the BNP report he told them that "this is a predominantly Christian country but … Christian opinion is not even considered when it comes to appeasing Islam. The history, culture, and heritage of local white British families are also ignored".
Hope Not Hate has reported that among the BNP supporters at the rally was the notorious neo-Nazi and Breivik-admirer Darren Clifft.
References to "white British families" and support from Nazis – what happened to the BNP's claim that it is neither racist nor fascist?