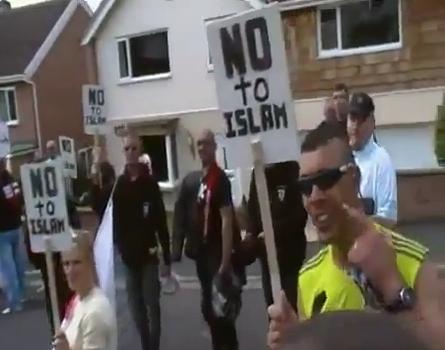 A politician's eight-year-old daughter was "petrified" when anti-Islamic protesters marched into the garden of their home with banners and banged on the window.
Lancashire MEP Sajjad Karim's home was targeted by the English Defence League (EDL) as part of a day of protests against "radical Islam" in the county on July 2 last year. Speaking from Brussels, Mr Karim, who was due to give evidence, said: "It is not the sort of thing any child should ever have to be prepared for."
Twelve admitted public order offences at Preston Crown Court and will be sentenced on May 25.
Bernard Holmes, 26, of Bolton Road; Leonard Hawley, 47, of Worcester Road; David Wilson, 47, of Devon Road, all Blackburn, and Jason Smith, 43, of Torquay Avenue, Burnley pleaded guilty to racially aggravated provocation of violence while David Garrett, 45, of Beckett Street, Darwen, admitted having an offensive weapon.
Leanne Thornton, 26, of Oak Avenue, Todmorden; Graham Smith, 48, of Draperfield, Chorley; Paul Blundell, 45, of Lee Street, Longridge, John English, 24, of Shorrock Lane, Blackburn; Martin Corner, 31, of Corporation Street, Chorley; Jordan Lonsdale, 20, of Ribble Lane, Clitheroe, and Paul Jackson, 41, of Spring Bank Terrace, Blackburn, pleaded not guilty to violent disorder but admitted using threatening behaviour.
Sajjad Karim added: "To be afraid to leave ones house as a mob fuelled by hate protests outside is as frightening as it gets. They showed no regard to the fact my wife and daughter were at home. It left me hoping and praying that our four walls would keep us safe and you can't begin to imagine how my young daughter felt.
"There were many more innocent people caught up in their violence that day and I am thankful this eleventh hour change of plea means they won't have to relive their ordeal in a courtroom. We have not and will not allow such mobs to use their threatening ways to hound people in our society."
Lancashire Evening Post, 26 April 2012
See also "Twelve people admit part in disorder after EDL protest in East Lancashire", Lancashire Telegraph, 26 April 2012
And "Men admit anti-Muslim protest", Chorley Guardian, 26 April 2012