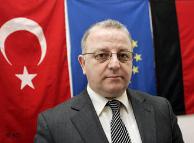 Chairman of Germany's Turkish Federation, Kenan Kolat, called for central bank board member Thilo Sarrazin to be removed from his post after fresh comments criticizing Muslims in Germany. "I am calling upon the government to begin a procedure to remove Thilo Sarrazin from the board of the central bank," Kolat told the German daily newspaper Frankfurter Rundschau on Saturday, August 28.
In his book "Deutschland schafft sich ab" ("Germany does away with itself"), Sarrazin claims that members of Germany's Muslim community pose a danger to German society. Sarrazin, a member of the Social Democrats (SPD) and Berlin's former finance chief, was reported in June as saying that members of the Turkish and Arab community were making Germany "more stupid."
With his book, Kolat said, Sarrazin had overstepped a boundary. "It is the climax of a new intellectual racism and it damages Germany's reputation abroad," Kolat said.
Deutsche Welle, 28 August 2010
Update:  See also Associated Press, 29 August 2010