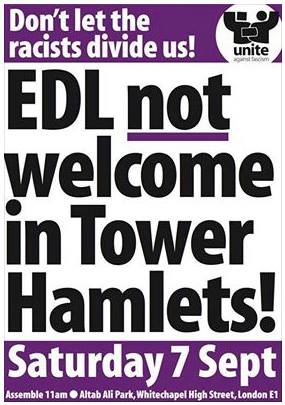 The Mayor of Tower Hamlets, Lutfur Rahman, along with dozens of other MPs and community leaders are calling on the Home Office to ban a planned march by the English Defence League, organised to take place on September 7 in Tower Hamlets.
Those calling for the ban, who have signed an open letter sent to the Guardian newspaper today, include former Mayor of London, Ken Livingstone, leader of Unite the Union, Len McCluskey, former cabinet minister Clare Short and MP and Chair of the Home Affairs Select Committee, Keith Vaz.
Faith groups including the Islamic Forum of Europe and Tower Hamlets Interfaith Forum have also signed the letter. There is particular concern that the EDL have openly declared they will target the East London Mosque.
The letter to the Guardian states: "The EDL intend to bring a message of hate to our borough. They seek to exploit the shocking murder of Drummer Lee Rigby for their own destructive ends. Their target is the largest mosque in the country.
"On previous protests, the EDL have abused worshippers and threatened to destroy mosques. Their protests invariably result in violence against local communities, property and the police."
It goes on to say that they will "continue to demonstrate that Tower Hamlets is No Place For Hate" and ask the Home Office to act. Lutfur Rahman has also written to the Borough Commander in Tower Hamlets.
A spokesperson for the Tower Hamlets Mayor's office told EastLondonLines: "The last time the EDL planned to march in Tower Hamlets it was banned but some of them gathered anyway. This time they are being more provocative but also there are more people asking for their march to be stopped, with more MPs getting involved."
EastLondon Lines, 21 August 2013
Update:  See "Theresa May must stop EDL's march of hate now", Guardian, 22 August 2013