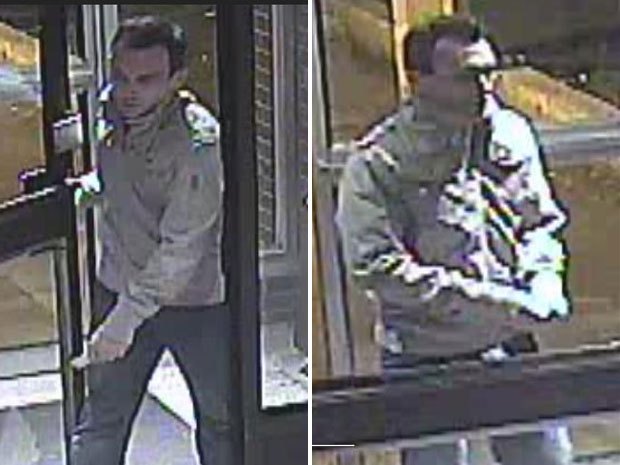 Security camera images of the man wanted in hate/bias assault investigation
Toronto police have launched a hate-crime investigation after a Muslim woman was spat upon last week outside a plaza in the city's northeast, just hours after counterterrorism investigators dismantled a local al-Qaeda-linked plot to derail a Via passenger train.
The suspect also said something to the 18-year-old victim, who was wearing a hijab, but she could not understand him due to a language barrier, police said.
"Obviously there's no motivation that we can determine other than the fact that the woman was wearing a hijab," said Det.-Sgt. Jim Gotell of 33 Division, noting the victim had done "absolutely nothing" to provoke the assault, and there were no overt signs that the suspect suffered from a mental illness. "The only logical assumption we can make at this point in time is [it was] because she was wearing a hijab, and it was a hate crime."
The incident occurred shortly before 9 p.m. on April 22 at the Peanut Plaza, a small, single-level retail strip in the area of Don Mills Road and Sheppard Avenue East.
As the woman walked into the plaza, the suspect turned and spat on her hijab, police said. As he walked away, the woman turned to look at him, and that's when he made the unspecified comment. It was unclear whether the man was speaking English, which is not the victim's native language.
Christian Leuprecht, associate professor of political science at the Royal Military College of Canada and Queen's University, said it was common for hate-crime allegations to follow incidents of this nature, when there appears no other obvious motivation for an attack. "[Assuming they didn't know each other], the only reason for someone to take premeditated action of this sort would be to target someone for their religious association as indicated by their appearance," Mr. Leuprecht said.
The white male suspect, whose image was recorded on a nearby security camera, was about 5'8″ with a thin build and straight blonde hair, and was wearing a light top, blue jeans and white runners. Det.-Sgt. Gotell said he was "confident" investigators would find the man, who could face a stiffer sentence if convicted of hate-based assault.
The proximity of the attack to the foiled Via plot and the Boston marathon bombings a week earlier — which fuelled a rise in anti-Islamic sentiment — was not lost on Toronto police, who called it "a concern."
Muslim Canadian Congress president Salma Siddiqui concurred, noting that while "one or two incidents" do not make a pattern, "there are growing tensions… and we all have to be vigilant."