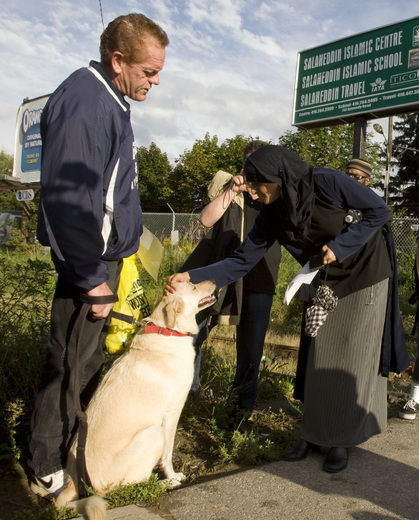 A much anticipated dog walk protest outside an east-Toronto mosque Friday turned out to be a hopelessly neutered event.
Around 20 demonstrators turned up outside the Salahuddin Islamic Centre for the Walk Your Dog in Front of a Mosque protest. It was organized in response to a Jewish man who was arrested at a recent Islamic demonstration following an altercation in which his dog was kicked by a demonstrator.
Around 20 humans and three dogs – two retrievers and a pomeranian – turned up for the two and a half hour event and converged at the entrance of the mosque, located on Kennedy Rd. south of Eglinton Ave. E.
Some devout Muslims consider dogs to be unclean and avoid them.
"We wish we had a better turnout, but there were extenuating circumstances," said organizer Ron Banerjee, citing traffic and rain for the poor attendance. The "events such as the kicking of dogs the poisoning of dogs in countries like Spain and England" on the part of staunch Muslims, he said, must be challenged.
One Catholic demonstrator turned up with his pomeranian. "Being kind to animals and being tolerant of other people shouldn't be limited to the West," he said.
A group of Muslims belonging to the mosque – men dressed in long thobes and women in burkas – met the demonstrators.
Tabasum Hussain, a Muslim woman, called it pointless. "I don't really see the benefit or what it's supposed to achieve, other than cause friction," said Hussain, who claims to have had dogs as pets. "There is nothing in Islam to say that we should ill-treat dogs."
Towards the end, one Muslim arrived with two friendly Siberian Huskies. All the while, both sides bickered about religious and cultural differences, at several points reverting to name calling.
The event also attracted its share of rabid anti-Islamists. Eric Brazau, a convicted felon once arrested for allegedly harassing a group of Muslim women, turned up to make "a stand."
"If we look at what is happening around the world today … how is it that we can say that there is no problem with Islam?" he said, referring to recent attacks on U.S. embassies in countries such as Libya and Sudan.
Toronto Sun, 14 September 2012
---
The incident that led to the "Walk Your Dog in Front of Mosque Day" stunt took place during a right-wing Zionist counter-demonstration against the annual Quds Day rally in Toronto on 18 August. In what was clearly an attempt to intimidate the participants, an individual named Allan Einstoss strutted through the crowd of Palestinian supporters with his dog, a 165-pound English mastiff with an Israeli flag tied around its neck. Predictably, this resulted in a confrontation and Einstoss was arrested. Anti-Muslim bigots then declared that a freeborn Canadian's right to take their dog for a walk was under threat from Islam, hence yesterday's protest outside the Salahuddin Islamic Centre.
Loonwatch has posted an exposé of the forces behind the protest. It was organised by Canadian Hindu Advocacy, whose spokesperson (and quite likely its only member) is Ron Banerjee. Here is Canadian Hindu Advocacy's celebration of the anti-Muslim pogroms in Gujarat in 2002 (for which 32 people, including a former Gujarat government minister, were recently convicted on charges of murder and conspiracy):

Yet the Canadian media continue to present Banerjee as if he were merely a controversial figure with a legitimate point of view. You can imagine how different the response would be to an extremist Islamist organisation that publicly advocated the killing of non-Muslims.
Considering the publicity that the Toronto Sun and other papers gave to Banerjee's latest Islamophobic stunt, the turnout for the protest at the Salahuddin Islamic Centre was really quite laughable. Unfortunately this won't deter Banerjee from staging further such provocations. His next plan is to organise a screening of the notorious Innocence of Muslims film in Toronto.
Update:  See Emma Teitel, "The Innocence of Muslims and the dirty conscience of Ron Banerjee", Macleans, 14 September 2012