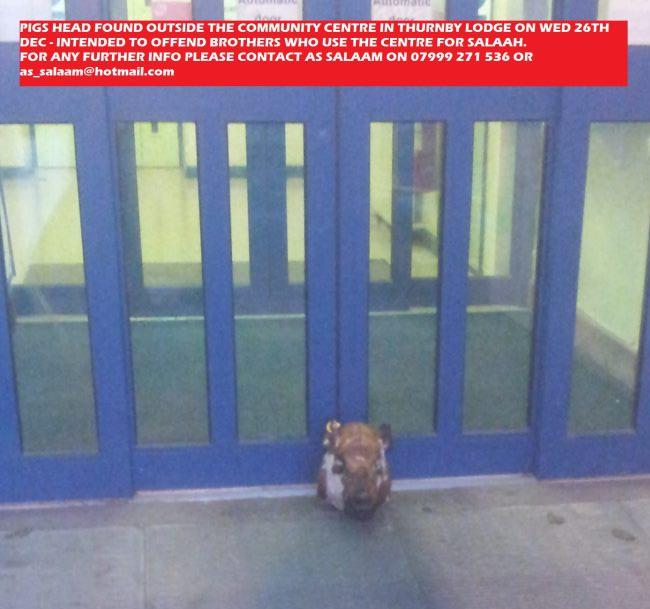 After facing months of harassment the Muslims of Thurnby Lodge faced a new horror in the campaign of hatred against the proposed prayer centre at the abandoned scout hut in Thurnby Lodge when a pig's head was left for them on Wednesday morning.
Muslims have faced nightly protests at the community centre they use for prayers at the moment, sometimes attended by the BNP and EDL. These are racist, anti-Muslim organizations known for their extreme views and violence at which 9 people so far have been arrested.
Though local Muslims have every sympathy for the feelings of non-Muslims in our community who feel neglected by the authorities and powerless to stop things getting worse on our streets, we do feel they are being manipulated by far right groups active in Thurnby Lodge recently.
One of the organisers of the anti-Muslim campaign is EDL member Chris Hopewell and who is pictured in the Leicester Mercury handing in a petition. Though he looks respectable in the picture, he is normally more than willing to bare his nationalist tattooed chest when trying to intimidate Muslims in Leicester city centre.
The Imam, Moulana Mohammed Lockhat said: "So far 9 arrests have been made which just goes to show the kind of people we are dealing with."
"There are protests almost daily around Isha (evening prayers) time just to intimidate & harass brothers who come for salaah (formal prayers). We are shocked and saddened by this development which is indeed a discriminating and hurtful act of religious intimidation", he added.
The pig's head did not stop fajr (early morning) prayers going ahead at the community centre, and it is a common misconception amongst the ill-educated thugs who make up far right anti-Muslim movements that the presense of pig remains or blood will some how stop Muslims from building mosques or Muslim community centres.
"Very sadly for those who tried to offend the Muslims, this has just increased our commitment to stay right here," said the Imam.
Volunteers for Outreach4Islam as well as other Leicester based Islamic groups are planning on increasing their efforts to call the non-Muslims of Thurnby Lodge to dialogue and understanding, and to separate those with understandable worries and complaints from the narrow minded violent organisations like the EDL.
Outreach4Islam press release, 27 December 2012
The racist minority among the white population of Thurnby Lodge is not only filled with hatred towards Muslims but is openly hostile to any non-white presence on the estate. Before Christmas, when Leicestershire's only female black firefighter, Velma Simms-Stewart, was on the estate collecting money for charity, one white inhabitant told his daughter not to give money to "the darkie".
Update:  The EDL's Leicester division have offered their own explanation of the appearance of the pig's head – it was the work of anti-fascists!
Update 2:  See "Pig's head dumped at Thurnby Lodge centre used for prayers by Muslims", Leicester Mercury, 28 December 2012
And "Pig's head left outside centre used by Muslims", Guardian, 28 December 2012