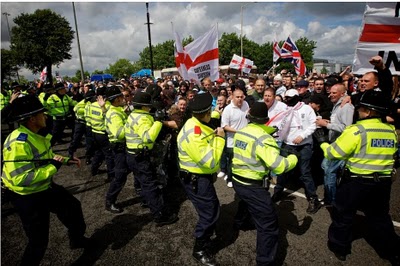 EDL protestors confront police in Dudley, July 2010
Three men have been arrested this morning in connection with an English Defence League protest in Dudley Town Centre.
Police executed warrants across Dudley and Walsall as part of their ongoing investigation into criminal damage and disorder following the EDL protest and counter protest by the Dudley Interfaith Alliance on July 17.
The men, aged 18, 20 and 26, were arrested on suspicion of violent disorder. They were questioned by police before being released on bail pending further enquiries.
A number of criminal offences have been recorded to date from the protests, including criminal damage caused to cars and premises in the town including homes, businesses and the Hindu Temple.