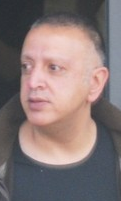 A Christian with a history of mental health problems threatened to blow up a mosque as "a cry for help". Peter Gill, made the threat to attack Shelton Mosque during a phone call to police, just hours after he had expressed suicidal thoughts to officers.
North Staffordshire Justice Centre was told the 51-year-old was not a racist and had no intention of carrying out a bombing at the Regent Road building. But District Judge Rachel Davies told Gill that in the current climate the police were bound to take his threat seriously. She sentenced him to two months imprisonment, suspended for two years.
Simon Dykes, mitigating, told the court how Gill, of Glenwood Close, Longton, had previously faced problems with schizophrenia and bipolar disorder.
On April 13 police were called out after Gill had got into an argument with a friend over the burial of a pet cat. Officers drove Gill home, but they returned to the address after Gill made another call to the police.
Mr Dykes said: "Officers become increasingly concerned at the comments being made by Mr Gill. He indicated he wanted to end it all and that he was hearing voices. The police were sufficiently concerned to take him to hospital. He became increasingly frustrated at having to wait in the A&E department, and so returned home.
"He made a 999 call. The call was a cry for help. He made a flippant comment about blowing up a mosque. He would say he is not somebody that holds racist views. But he is somebody who finds it hard to articulate his feelings."
The court heard that Mr Gill is of Indian descent, and a member of the Church of England. But Mr Dykes said his client was not religiously motivated, but rather made the threat in order to receive help for his problems, after experiencing a lack of attention in the past. Mr Dykes said Gill has therefore got "what he wanted" in that he was taken into custody as a result of his threat.
District Judge Davies said Gill's crime was so serious only a custodial sentence would be appropriate. She told Gill: "You phoned up the police and made threats to damage the mosque by blowing it up. In the times we're living in this threat was bound to be taken seriously by the police. It must have caused some degree of alarm to the police."
The £2 million mosque in Regent Road opened for prayers in July after years of delays, with its official opening still being planned. An attempt to blow up the building in December 2010 caused more than £50,000 of damage.
Islamic centre director Rana Tufail welcomed the action taken against Gill. He said: "Any threat to hurt somebody or destroy a building, especially a community building, should be taken seriously."